Morro Bay is an absolutely adorable charming sea-side town along Route 1 between Big Sur and Santa Barbara that you should absolutely visit! It's a great destination for a weekend getaway or for a 1-day stop during a coastal road trip. It has a relaxed atmosphere that's trendy, but not yet overrun by tourists.
One of the things I really love about this little town is that there are so many free activities (mostly outdoors) that can fill up an entire day. Visiting Morro Bay doesn't have to be expensive at all unless you want it to be. You can have a wonderful, romantic, adventure of a day without spending much at all.
About Morro Bay
The crowing jewel of Morro Bay is Morro Rock. You literally can't miss this giant 575ft tall rock in the middle of the bay. The rock is part of the Nine Sisters of San Luis Obispo, which is a chain of volcanic peaks. Morro Rock is a 23million year old volcanic plugs and was created when magma hardened within a vent on an active volcano. You can't climb the rock, but you can visit it via the causeway of sand that connects it to the mainland.
The bay is formed by the rock and a 5mi long spit of sand. This creates an ecosystem for all sorts of wildlife – the hundreds if not thousands of sea birds nesting on Morro Rock, the sea otters and sea lions that play in the bay, and a whole bunch of fish and flowers.
There are some pretty amazing sunsets in this bay, so where ever you are during that time of day, make sure to look out over the ocean to catch this beauty.
Free Activities
Watch the Sea Otters

My favorite thing to do here and I could sit and do it for hours. I love sea otters – they're so adorable and playful and a joy to watch. Lots of sea otters come into the bay to raise their young, so during the spring and summer you can see a bunch of them playing in the bay. The best place for viewing is at Morro Rock. You can walk or drive down the peninsula that connects the rock to the main land. To the left you're almost guaranteed to see sea otters in the bay. So much so that every time I've visited, there' a sea otter conservatory organization which has set up camp with a telescope to give visitors a better up close view. They also provide lots of details and info on the sea otters themselves, mating habits, what they eat etc. It's almost like a free aquarium visit with educational explanation.
Feed the Squirrels

Located in the same area where you can best view the sea otters as mentioned above, there is also a large population of squirrels that live among the rocks along the shoreline. In between watching the sea otters, throw a few crackers to the squirrels! They're also fun to watch as there are so many of them each with their own personalities. They won't take food from your hand, but they'll get close!
Window Shopping & Mural Viewing Along Main Street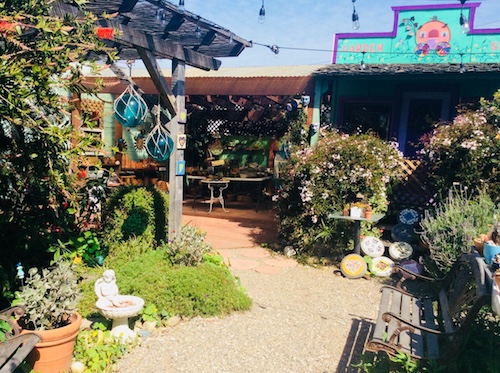 Morro Bay has so many really cute shops! You won't find any corporations here – it's all local artists, antiques, cafes, vintage shops and local business owners. Walk along main street and take a look at what's available in these shops. You'll see lots of really cute treasures. This strip isn't very long and in between the shops are some really beautiful murals painted onto the buildings as well. There's a farmer's market on Thursdays and Saturdays too if you're around.
Walk the Docks/Boardwalk and Watch the Seals & Sea Lions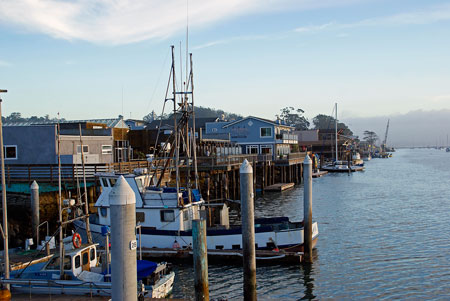 On the harbor-side of the shops that line main street is a boardwalk that connecting several docks that runs along the harbor known as the Embarcadero. You can walk almost the entire length of main street via the Embarcadero. It's a great place to look out over the sea and look at the seals & sea lions. The sea lions don't hang out in the bay near Morro Rock like the otters do, but rather prefer to lay around on the ship rafts out in the harbor. They're a good distance from shore, but you can see them and most definitely hear them. This is a really great thing to do at sunset.
Visit Morro Bay State Park

About 3miles south of Morro Rock, so you'll need to driver here whereas the other above activities are all within walking distance. Morro Bay State Park has some beautiful views of the bay and also includes a lagoon, heron rookery, estuary (wetlands where fresh and salt water mix), saltwater marsh, and Elfin forest. Lots of opportunities for bird watching with all these different habitats! There are a few hiking trails and paths as well as unpaved roads that you can walk on. There's also a golf course, but with so much else to see, who really wants to stop for a round of golf? Park brochure available here.
Hike Black Hill

The trailhead starts on the outskirts of Morro Bay State Park and is a pretty easy 2mi round trip trail. Black Hill is one of the Nine Sisters of San Luis Obispo (like Morro Rock) and is 661 feet high. It provides a really great view of the surrounding areas – everything included in the park, the bay, and the rock. Hiking guide available here.
Paid Activities
Go Kayaking or Paddle Boarding
What better way to get close to the marine life in the bay? Ok well, you can't get that close, but it will be closer than you are on land. In the area around Morro Rock where the sea otters live, there are actually kayak "patrol boats" that will keep you from getting too close to this protected area, but there's still much to see in the rest of the bay. And if an otter gets curious and swims up next to you on its own, well, that'd its problem, not yours! There are three main kayaking/water equipment rental places with a variety of different packages: Kayak Shack, Kayak Horizons, and Central Coast Outdoors.
Take a Semi-Submarine Tour
Take a look beneath the surface! There's lots to see above the water and along the shore, but this is one of the best ways to also see what's below. Mostly lost of fish, kelp beds, and the occasional seal, sea lion, or sea otter swimming through the water. This semi-submarine boat is partially submerged below the water level and has a glass viewing area where you can see everything that's happening below the surface. More details here.
Take a Harbor Boat Tour
Relax on the water and enjoy the view. Hire a boat to take you out into the harbor for a new view of the bay and its surrounding areas. You'll explore further than you would with a kayak and also can just sit back, relax, and enjoy the ride. A few harbor boar cruises companies are: Bay Cruisers, The Lost Isle Tours, and Sunset Cruisers.
Have Dinner at The Galley

My favorite restaurant in Morro Bay. The food is FANTSTIC! Of course, this comes with a comparable price tag as well – it's one of the most expensive restaurants in Morro Bay and is usually very popular (make reservations early!). Sea-side dining that looks out over the bay through large glass windows. There are a bunch of other options for restaurants too, most are a bit pricy, so if you're already going to be spending "more than normal" on a nice dinner, I figure go for the best and make sure you're getting something really great rather than saving few bucks and getting something mediocre.
Go Scuba Diving
I haven't don't this personally, but I saw divers out there on our last trip and wished that I knew this was an option so that I could be out there with them! Dive sites include large areas of rocky relief, tall pinnacles, vertical walls, and healthy kelp beds all teeming with marine life. Shore and boat diving are both available from SloDivers (the only licensed charter in the area.)
Season Events & Festivals
Avocado Margarita Festival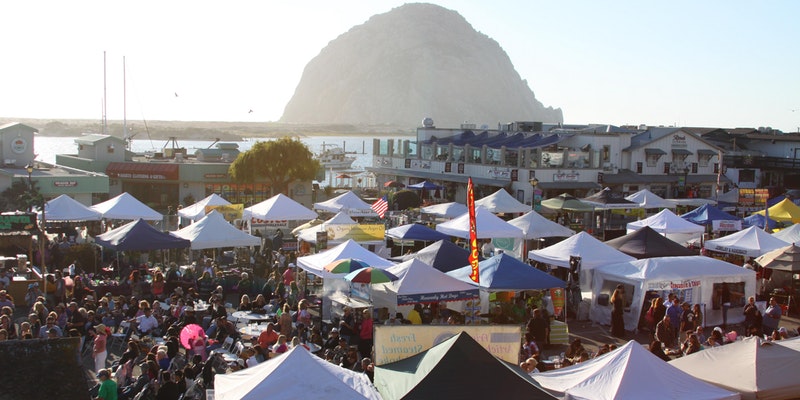 A really fun festival that happens in Sept. every year. It's just what is sounds like – avocados and margaritas – what's not to love?! Live bands, foods, art exhibits, avocado juggling contests, cirque adventure performers, and a whole bunch of street food options. Official site here.
Harbor Festival
Yearly festival happening in Oct. largely focused around fresh seafood available along the Embarcadero from local fisherman. Live music, races and water craft demonstrations in the Bay, booths with goodies for purchasing from local business vendors. Official site here.
Places to Stay
There are LOTS of hotels, motels, bed and breakfasts, Air bnbs, and even a luxury report retreat spa in this area. Whenever we've visited, we look for the cheapest option, so I don't have a particular place to recommend as being really amazing.
You can expect to spend $100- $150/ night on the low-end motels and then the rates go up from there. A lot of the hotels are within walking distance of Main St, Morro Rock, and the main marina/bay area which makes it super convenient to explore without worrying about parking.
Camping and RV hookups are available at Morro Bay State Park.