Yosemite is full of hiking trails that go on for miles and miles, which almost makes it like a choose your own adventure hiking destination – it's hard to choose the best day hike when there are so many options!
When I first started day hiking in Yosemite, I was very confused about the way the trails are laid out. I just wanted a simple "follow this trail and it goes here" hike, but that's not how Yosemite is set up. Yosemite hiking trails are based on the landmarks you want to see, and there are usually multiple ways to see each landmark and multiple in and out points for one trail. So the trails aren't just a simple "follow this trail" route, but rather "start at this location", follow "part of this trail" then "part of this trail" and "part of this trail" and then you'll "end at this location".
So it really just depends on how you want to get there and what else you want to see along the way. You'll either do one section of a bigger trail that would usually take multiple days (such as the John Muir Trail), or you'll string together a few smaller trails and pieces of big trails in order to see what you want to see.
Best Yosemite Day Hikes

These best day hikes include some really beautiful views and landmarks in Yosemite National Park. There are and endless number of trails and other ways to visit and enjoy almost all of the same sights, but these are my favorites and I think the best hikes in the park:

My favorite. You get a little bit of everything with this trail and you can also modify how far you want to hike without doing the whole thing and still see some pretty great stuff. You'll get views of Half Dome, and see one of the tallest waterfalls in the park – Nevada Falls. The trail starts at Glacier Point, extends along the ridge overlooking Yosemite Valley and includes a portion of the John Muir Trail. It's an out and back hiking trail, but can be combined with other trails to make a loop.
Trail Overview
Views: Glacier Point, Illilouette Falls, Nevada Falls, Vernal Falls, Panorama Point, Royal Arches, North Dome, Half Dome
Distance: 9.5 miles (15.28 km) one way (BUT you don't have to do the entire thing!)
Elevation at Trailhead: 7,200 feet/ 2,200 meters
Elevation Gain: -3,200 feet/ 975 meters
Difficulty: Difficult/ Hard
Crowd Factor: Light-Moderate, Heavy at beginning and end
Time: 5-8 one way (you don't have to do the whole thing to enjoy it!)
---

I really like this hike because it's more or less a loop, so you get to see new stuff the entire time. It has some amazing views from the ledge above the valley floor. It's an easy yosemite hike with a few challenging moments. Great if you want some shade, nice views, not many crowds, and not to be over-worked.
Trail Overview
Views: Dramatic vistas of Yosemite Valley, The Fissures, El Capitan, Upper and Lower Yosemite Falls, Sentinal Dome
Distance: 5.2 miles round trip
Elevation at Trailhead: 7,750ft /2,362m
Elevation Gain: 1140ft/ 347 meters
Difficulty: Easy/Moderate
Crowd Factor: Light-Moderate
Time: 3.5-4 hours round trip
---

A really nice beautiful trail. The majority of the hike is spent in the forest or in a meadow with wildflowers. The trail is challenging enough to make it interesting, but overall still a pretty easy trail. The views from the point are gorgeous with low crowds and there are two other points nearby that you have the option of checking out too.
Trail Overview
Views: Yosemite Valley, El Capitan, Bridalveil Falls, McGurk Meadows
Distance: 7.8 miles round trip
Elevation at Dewey Point: 7,200 feet/ 2,200 meters
Elevation Gain: 300ft/ 100 meters
Difficulty: Moderate
Crowd Factor: Moderate
Time: 3.5-5 hours round trip
---

So this one isn't technically inside the park, but it use to be! And it's worth a mention. Jackass Lakes are now technically part of the Sierra Nevada Forest, which is just over the ridgeline from Yosemite. Since this area is lesser known, the crowds are basically non-existent. The views are just as beautiful (it's literally right next door and use to be part of the park!) and you will have the entire place all to yourself!
Trail Overview
Views: Sierra Nevada Forest, Jackass Lakes
Distance: Around 9 miles round trip
Elevation Gain: Around 2,580ft
Difficulty: Moderate/Hard
Crowd Factor: Non Existent-Light
Time: 4-6 hours round trip
---
The Good, The Bad, and The Ugly
This trail is part of both the best and worst hikes in Yosemite…

I would be remiss if I didn't include The Mist Trail. It's by far one of the most popular trails in Yosemite, but personally, I would put it on the worst list for me. It has amazing views of Nevada and Vernal falls. You get so up close and personal with the waterfalls, they are spraying all over you (hence the name). It's for this reason, that it's part "best", because it's the best experience you'll get with these waterfalls and it's truly awe-inspiring. It's a trail everyone should do once, but I would only do it once… this is because of the crowds, which is why I put it on the "worst" list as well. It's non-stop high traffic crowds for the entire trail. I mean, it's like an ant freeway. Plus the majority of the trail is paved or made of stone steps, which draws every and all types of hiker. I personally prefer to make contact with the dirt and earth and be surrounded by trees alone in the wilderness while hiking – there are other ways to see and get super close to these waterfalls (see the Panorama Trail above).
Trail Overview
Views: Nevada Falls, Vernal Falls
Distance: 7 mi round trip
Elevation gain: 2000 ft
Difficulty: Strenuous
Time: 5-6 hours
---
The Worst Yosemite Day Hikes
Do yourself a favor and avoid. There are other ways to see all the same stuff, which takes any benefit out of this trail.
The Four Mile Trail
Just don't. The only possible way to enjoy this trail is if you are hiking from Glacier Point down to the Valley floor. Going up in the other direction is just masochistic. It's nothing but straight switch-backs, straight uphill for the entire 3,200 vertical feet. Oh, and don't be surprised by the name… the Four Mile Trail isn't 4 miles – it's closer to 5 miles. 5 miles of nothing but brutal uphill. Sure it's pretty to look out over the valley, but any of the rim trails along Glacier Point (such as Taft Point to Sentinal Dome or McGurk Meadow to Dewey Point listed above) will give you those same views without you wanting to throw yourself off over the side of the cliff because it would be a more pleasant. Oh! And… there's no shuttle running between Glacier Point and the Valley. So you either need to put one car at the end of the trail and another at the beginning, or find a different trail to get back to your starting point, or go back the way you came so that you aren't stranded at the end of the hike.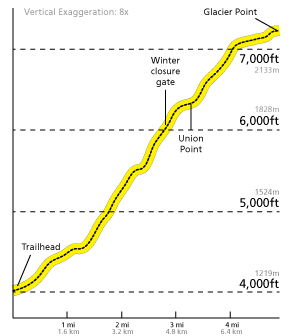 Trail Overview
Views: Valley Floor, El Capitan, Upper and Lower Yosemite Falls
Distance: 4.8 mi
Elevation at Trailhead: 4,000 ft
Elevation gain: 3,200 ft
Difficulty: Fuck my life
Time: Eternity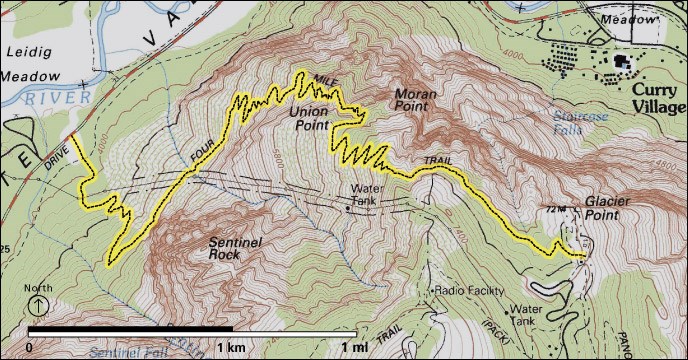 Recommended Hiking Gear