Hiking Mosaic Canyon is one of the best ways to introduce you to the unique beauty of Death Valley. It has a diverse range of geological formations that wind you through a twisting slot canyon unlike many other hiking areas in the valley. While the first portion of the hike does get very crowded by tourists, I highly recommending checking out this canyon as I feel like it's a good representation of Death Valley and something that everyone should see at least once. You'll get both a cool slot canyon and some boulder-climbing all in one.
Overview:
Distance: 4 mi
Type: Out & Back
Time: 2-3hrs
Elevation at trailhead:  800 feet
Elevation Gain/Loss: 1,200ft
Difficulty: Moderate
Crowd Factor: High
Best Time: Feb-April or October-November
Permits/Fees: Death Valley Entry Fee: $35
Water: No
Directions to the Trail Head
The trailhead is almost directly across the street from Stovepipe Wells Village. It's a 1/4mi away and is clearly marked. The dirt road to get to the trailhead is uphill and is maybe 3/4mi long. 4WD isn't required, but would be a good idea. It will be a bumpy and slow ride getting there without it.
Death Valley Park Fees
There is no entrance gate for Death Valley. Park entry fees can be paid at the ranger stations or at any of the self-pay facilities around the park.
Individual (on foot or bicycle) – Good for 7 Days: $12
Motorcycle – Good for 7 Days: $20
Automobile with up to 4 people – Good for 7 Days: $25 April – October, $25 other months
Death Valley Annual Pass – Good for 1 Year: $50
What To Expect Along The Trail
The first 1/4mi of the trail has he most stunning terrain in my opinion… and apparently for tourists as well since once you get past this section, most of the tourists have taken their photos and turn around and go back without during the full hike.
You can expect this section to be very crowded and also very beautiful. All of the photos of a winding slot canyon are taken from this first 1/4mi section.
After the first 200ft or so, the canyon walls narrow to just a few feet wide in spots, lined by marble-like rocks and mosaic color patches. The rocks are super smooth from years of erosion and flash floods.
After a series of turns through this tight "slot canyon", the canyon broadens greatly and turns into more of a wash with high, steep rock walls.
Most of the tourists will venture a few feet into this section before taking a break and heading back. As you continue past, quiet and solitude will finally set in. This area offers no protection from the sun.
The wash remains open for about half a mile, as you continue to move uphill. A small ravine joins the canyon as it turns to the right and the main canyon narrows again (tho not as far as the initial section). You'll come across a section that is partially blocked by boulders (about 1 1/4 mi into the trail) that can be bypassed by climbing on the left side pretty easily.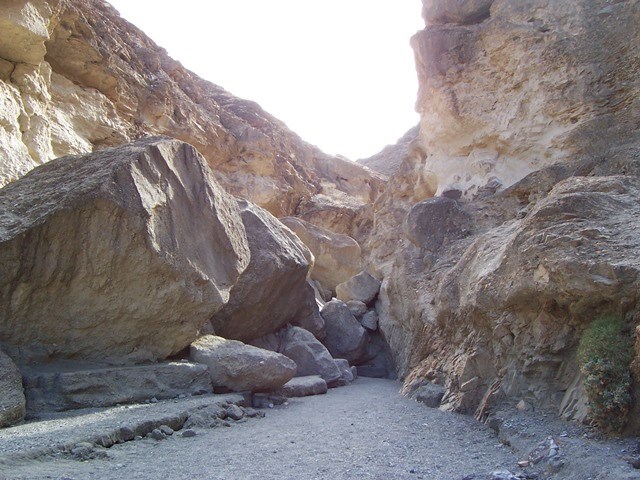 You're now entering the 2nd set of narrows. About 1/4 mi past that, you'll encounter your first dryfall at a height of 20ft. The NPS doesn't recommend trying to climb this dryfall (tho it can be done). You can either take your chances, or backtrack a little bit (about 150ft) and look for a faint footpath up the western wall. This is not for those with a fear of heights! This path is gradual which allows you to walk up the rocky slope where you'll fine an obvious bypass trail. This trail is above the canyon floor and will leading you up the canyon and then back down above the dryfall.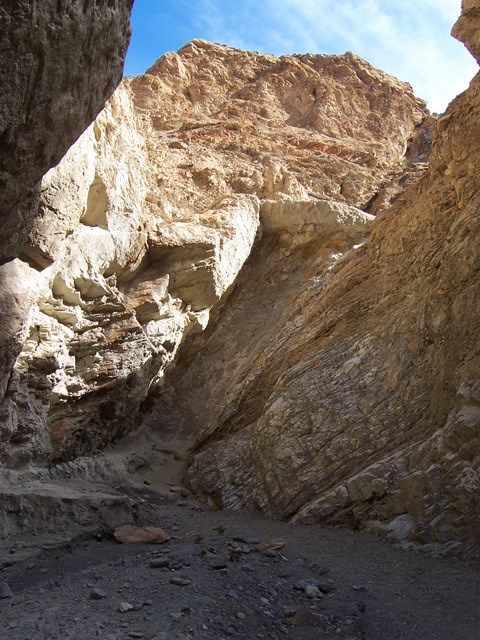 You'll continue through a 3rd set of narrows after about another 1/4mi (which are similarly as narrow as the first section of the trail). The trail then ends at a dramatic 25ft dryfall, which is impassible with no bypass trail. If you're feeling adventurous, you can scramble fast this block. If you're interested in continuing on this path, here's a good blog that details more about how to do that.