Paria Canyon & Buckskin Gulch is a beautiful stretch of desert spanning from Utah to Arizona. The Canyon has towering walls (most famously Buckskin Gulch), huge red rock amphitheaters, sandstone arches, wooded terraces, and hanging gardens. It's very close to the popular The Wave day hiking area, all of which are included in the Vermilion Cliffs Wilderness Area.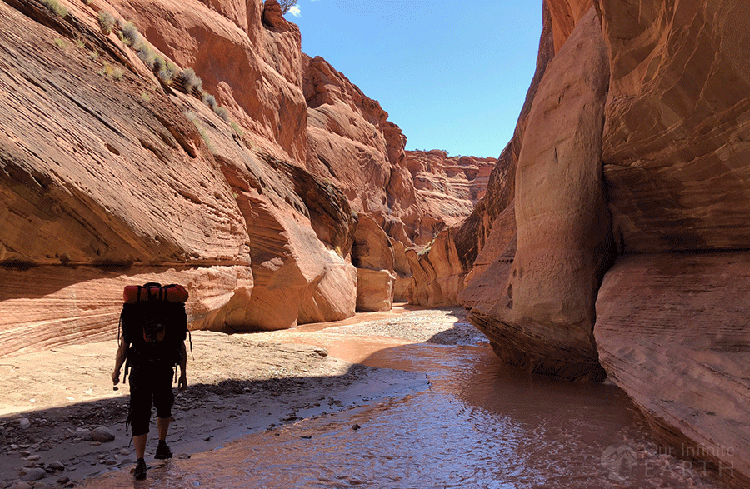 To protect these areas from erosion due to humans, the Bureau of Land Management have limited the number of people (and thus the number of available permits) allowed for overnight use in the canyon.
Advance PERMITS ARE REQUIRED, there are no walk-in permits for overnight use. Day use permits, however, are available via self-serve envelopes at each trailhead.
There's a limit of 20 spots are across all 4 trailheads. It's a very popular area for overnights and backpackers, which makes getting a permit difficult due to the demand.
As of Oct. 2020, permits are now reserved through Recreation.gov, not the BLM.
There's no lottery for getting permits, it's first come, first serve for online reservations, but you have to be quick about it! Permits are available 4 months in advance. So if you want to take a trip in May, you need to get your permit in Feb.
Reservations are accepted at 12:00 noon (Mountain Time) on the 1st of each month for a permit during the third month ahead. You need to be online, sitting ready and waiting for the next month to open if you want to have a chance of getting a permit. Refresh the page until the month becomes available.

Permit Costs
$5.00 per person per day
$5.00 per dog per day
$9.00 reservation fee/li>
How to Beat The System
Given how quickly the permits go, in order to get the dates you want, there are a few time-saving tips I noticed which will allow you to fill out the form faster and thus increase your chances of getting your requested dates:
Pro Tip #1: Get familiar with the form before applying. Before the 1st when there will be a mad dash to get a permit, visit the calendar and click on one of the available dates to see what field will be required when filling out the form to make sure you have all of the information you need ready when the time comes.
Pro Tip #2: Create a Recreation.gov account ahead of time (if you don't have one already). Log into your account before getting ready to apply for the permit. If you're logged in, some of your information will automatically be filled out on the permit application form, which will save you some time.
Pro Tip #3: Pre-save your credit card rather than trying to enter all of those numbers correctly when you're moving as fast as you can.
You will need to know (required fields):
Entry & Exit trailhead – There are 4 trailheads. Plan your trip ahead of time so that you know the names of the trailheads where you want to be. Here is how to plan your route.
Issuing Station – You will need to pick up your permit before entering from one of 3 locations. Once you know your trailheads, use Google Maps to figure out which pick-up spot will be best for you (some of them are an hour away from the trailheads!)
Exit Date – When filling out the permit application, you'll need to set your exit date, which means you need to have a rough outline of our itinerary and how long you expect you'll be in the canyon. You cannot be in the canyon after your exit date, but it's ok if you leave early, so it's a good idea to add an extra day to your permit application just in case.
Names of everyone in your party – will need to be entered when applying for the permit. You can modify this later, so for the sake of time, just have some sort and quick to type names ready to go.
Emergency contact and phone number – can also be modified later, so just pick someone that's fast and easy to type.
Are you bringing an animal? – check box for yes or no
Vehicle license plate – there's not "required asterisk" next to this on the application, but it is actually required and the system will not let you submit the application without it. You'll need to add a vehicle and have the license plate ready to go. There are also fields for make/model, but that is not required at the time of filling out the permit. Also, this can again be modified later if you're going to be renting a car or maybe using a different one. Just have a license ready to go when filling out the form.
You'll know right away if you got your permit or not. Reservation and permit fees for all applicants will be charged at time of reservation. Following the reservation process, a confirmation email will be sent containing the receipt and permit information.
Once you've gotten your permit, check out our: