The Russian River is a popular California summer destination. Located in Sonoma and Mendocino counties just north of San Francisco, the river winds past several wineries and through picturesque forests, many of which include redwood trees. The river is a great destination for summer activities, especially kayaking, canoeing, swimming, floating, and general water relaxing.
The area is great for families and individuals alike. There are countless sandbars along the side of the river where you can set up camp for a BBQ or picnic. The river culture here is generally friendly and more tame than the "spring-break" sandbar parties that you'll find at Lake Havasu, with plenty fun to be had!
Which Part of The Russian River Should I Visit?
The most popular stretch of The Russian River is approximately from Healsburg to the river outlet into the ocean. This area of the river is easy to access and caters towards summer vacations and water activities.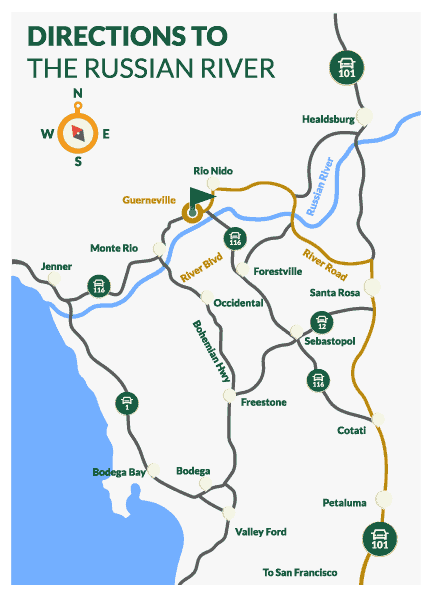 The river itself is generally very shallow during the summer and not particularly wide. You can often stand and walk through parts of the river rather than kayaking if you really wanted to and on the deeper areas (there are many), you can easily swim across the river. This is also why I recommend using a kayak or other shallow watercraft to explore the river, so that you don't hit bottom!
There are lots of rope swings along the river and many houses with docks. There are few loud motorized boats, all though motors are allowed. During popular weekends such as the 4th of July you can expect to hear lots of music from individual picnic parties and from the pontoon boats on the river.
Starting Your Kayaking Trip in Guerneville
Guerneville is considered to be the "heart of the Russian River" and is one of the largest towns along this lower area of the river. Largest being 4500 people, so really not that large! Guerneville is an extremely charming town with a very old-fashioned feel to it. Surrounded by trees, with one main road in and out, its easy to imagine this being a popular family get away in the 1950s.
Modern day Guerneville makes sure to cater to the tourists that visit with several cute cottage accommodations and a variety of options for cuisine and outdoor activities. It also has a strong PRIDE movement with hotels that cater to the LGBT community especially. For more info on accommodations and restaurants in this area, click here.
Kayak Rentals
Johnson's Beach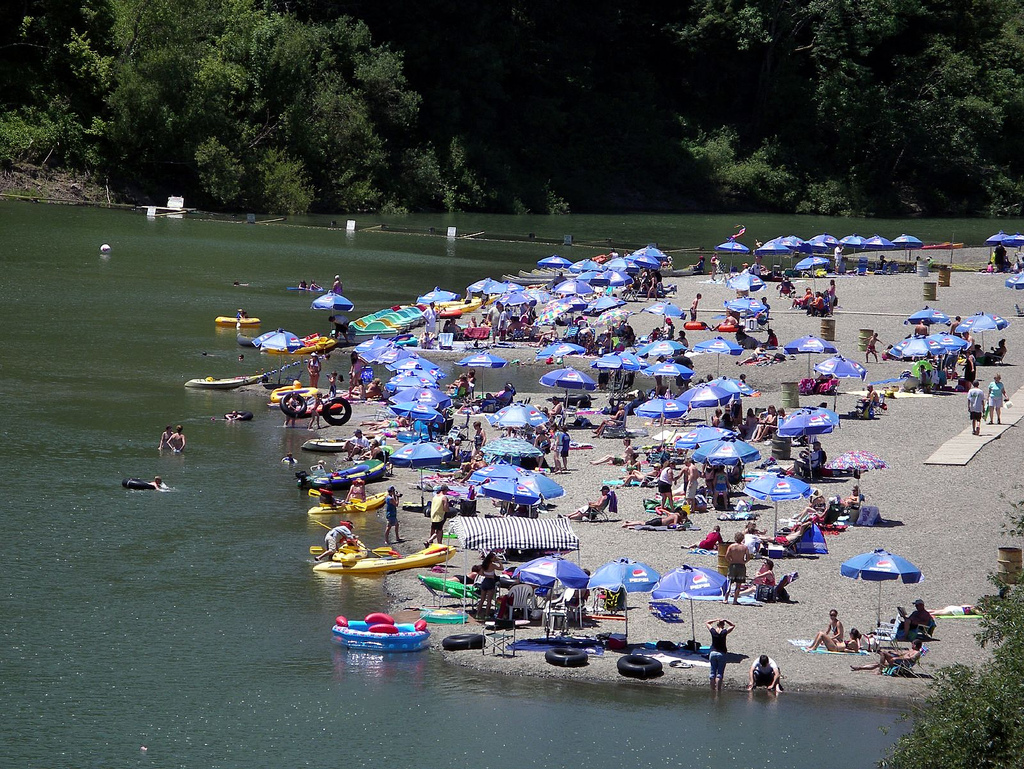 Johnson's Beach is located in downtown Guerneville and is walking distance from pretty much anywhere in the area where you're going to stay. I think this is the best place to rent kayaks from because of the walk-ability. It's just so convenient to wake up, get a sandwich for a picnic from the local Safeway, then walk to the beach and get a kayak. You can reserve your kayaks ahead of time or get them at the boat house when you get there.
Johnson's Beach entry is free ($5 if you want to park)
Kayak Rentals are $40/day
Open daily from June 17 to September 8 from 10 am to 6 pm.
Burke's Canoes
Another popular option is Burke's Canoes, which is located further up river near Forestville. While Burke's does offer a complementary shuttle service if you only want to paddle downstream and not back, it would still require driving to get there from Guerneville.
Setting Your Course
When renting from Johnson's Beach, there is a dam in the river at the beach to allow for swimming, so you can't paddle downstream, but otherwise you're pretty much free to kayak anywhere you want along the river as long as you return by the end of your rental time.
Pro Tip: Don't forget your waterproof sunscreen!
While the currant isn't too strong, it will take you longer to kayak upstream since the currant is against you. There is an old railroad bridge over the river just upstream of Johnson's which will be a valuable landmark on your way back as you'll know you're almost there.
Johnson's does require you to wear lifejackets the entire time you're on the kayak, but once you're past the railroad bridge, you're out of sight and no one will be monitoring you at that point.
My recommended course is to follow the river for about 4-5 miles until you hit Korbel Winery and find a place near there to picnic and swim.
If you're paddling straight through at a good pace, it'll take around 1.5-2 hours to get here and this will be right around the time when your arms have had it and don't want to go anymore.
You'll pass 2 big sand bars with lots of pop tents and people enjoying the sun and water along the way (if you want to stop for a bit to be social). The river will twist and turn quite a bit and I can't really describe exactly where our favorite spot is without seeing it, but there are several great spots near Korbel on both sides of the river.
This area of the river is ideal because it's halfway between Guerneville and Forestville and since it's next to the winery, it's harder for locals to access, so it's more remote and you'll have more privacy to enjoy the river to yourself!
From here, you can keep going upsteam to explore more of the river or head back to Johnson's. On your way back in the afternoon, the wind usually picks up, so while you're now going with the currant, the wind still creates resistance while paddling. Depending on how strong the wind is, it'll still be a faster trip back than when you went out.