I love the Platypus GravityWorks 4L Water Filter! So much so that I decided to write a review about it. It saved our butts on our last desert backpacking trip. But it's not a completely perfect system, so this will still be an objective review.
Treating your water is is crucial when in the backcountry and it's important to choose the system that's the best for you.
This filtration system is characterized by two 4Liter (or 6L or 2L depending on which you get) plastic bladders connected by a hose which goes through a filter. Fill one bag with the dirty water, let gravity pull it through the tube and filter, and then you get clean water in the second bag.
It's super easy to use, versatile, lightweight, and very effective. I especially love that you can set it up, forget it and let it do it's work. Come back a few mins later and you'll have liters of nice clean water.
Pros
Light weight
Very fast – 4Liters in 2.5mins
Easy to use
No need to pump water, let gravity do the work!
Lays flat and can fill from shallow water.
Cons
Takes up a fair amount of space for its size.
Can get clogged if a lot of sediment
Does not filter out unpleasant tastes
Price & where to buy
The Platypus GravityWorks Water Filter is going to cost you around $100 wherever you go. You might be lucky to find a sale an get it for $90. It's available at any outdoor sporting good store.
Most easily, you can order it from Amazon or REI or straight from Platypus.
Effective Against
Protozoa, bacteria, and particulates from water before you drink. It meets all EPA & NSF guidelines for the removal of 99.9999% of bacteria and 99.9% of protozoa. It doesn't kill viruses, but it does get most of what's commonly found in the backcountry.
Ease of Use
This is one of the best things about this water filter. It's so simple, it's almost idiot proof. There are two 4Liter bladders very clearly and in large font labeled "clean" and "dirty". Before filling the "dirty" bag, set up the system by connecting the tubes to the water filter and to each bag (instructions are included).
Then fill the "dirty" bag with the dirty/unfiltered water. The bladders are so thin, this can be from a very shallow stagnant pool – more so than you could with a water bottle. Hold/place the "dirty" bag higher than the "clean" bag and let gravity do the work! Gravity will pull the water through the tube, through the filter, and into the "clean" bag. The higher your "dirty" bag is from your "clean" bag, the faster the water will filter.
Portability
The system is easy to set up and breakdown.
Components
– Hollow fiber filter
– 2 Hollow microfilter hoses
– 1 dirty bladder with zip tight top
– 1 clean bladder
– Shutoff clamp
– Water bottle adapter
– Storage sack
The bladders can be wrapped around the filter for packing. It takes up a little more space than I would like – roughly the size of a water bottle.
The whole system weights in at 11.5 oz.
Durability & Maintenance
The bladders are made of heavy plastic and are very durable. They each come with a strap which makes it easy to hang them from a tree branch. They also don't have that awful plastic water taste either.
The rough lifespan of the filter is 1500 Liters, which comes out to 375 uses before its time to get a replacement filter. But there's no indicator of how many times you've used the filter other than keeping track yourself.
It's also recommended to backflush the filter in order to expand it's life and maintain optimal performance (especially if filtering murky or silty water). GravityWorks recommend backflushing a ¼ liter of water for every 6L filtered (depends on the water clarify/quality), which is slightly inconvenient when in the backcountry. Their lab found that with frequent backflushing, you can expect better maintenance of flow performance and longer life from your filter cartridge.
Speed
One of the best things about this filter is how fast it is at cleaning water. It takes a little over 2mins to filter the full 4L bag. It's just about instantaneous!
Key Features
A few really nice features I'd like to point out:
Zip closure – the dirty bladders has a zip closure at the top (like a ziplock bag), making it easy to open/close the bladder… in theory. For some reason our bag just wouldn't zip close at all, and I also can imagine this being difficult if you have cold fingers. I've cleaned the track several times and aligned the grooves, but it still just doesn't "lock". So when using this, we have to leave our dirty bladder open to the elements rather than having it closed since there's not an alternative to the zip closure.
Shut off clamp – really handy for slowing the flow of the water or to allow you to switch the clean bladder for a bottle (or vice versa). The shut off clamp is directly on the hose connecting the bladders and the filter. It works similarly to a clamp on an IV, pinching the hose enough that water can no longer get through.
Water bottle adapter – also a great feature for making it more easy to fill up other water receptacles. For us, unfortunately, this adapter doesn't fit perfectly with the clean bag when they are connected, it leaks a little. So, we have to position the clean bag so that the tube is facing upwards when its receiving the filtered water in order to try to avoid leaks.
Overall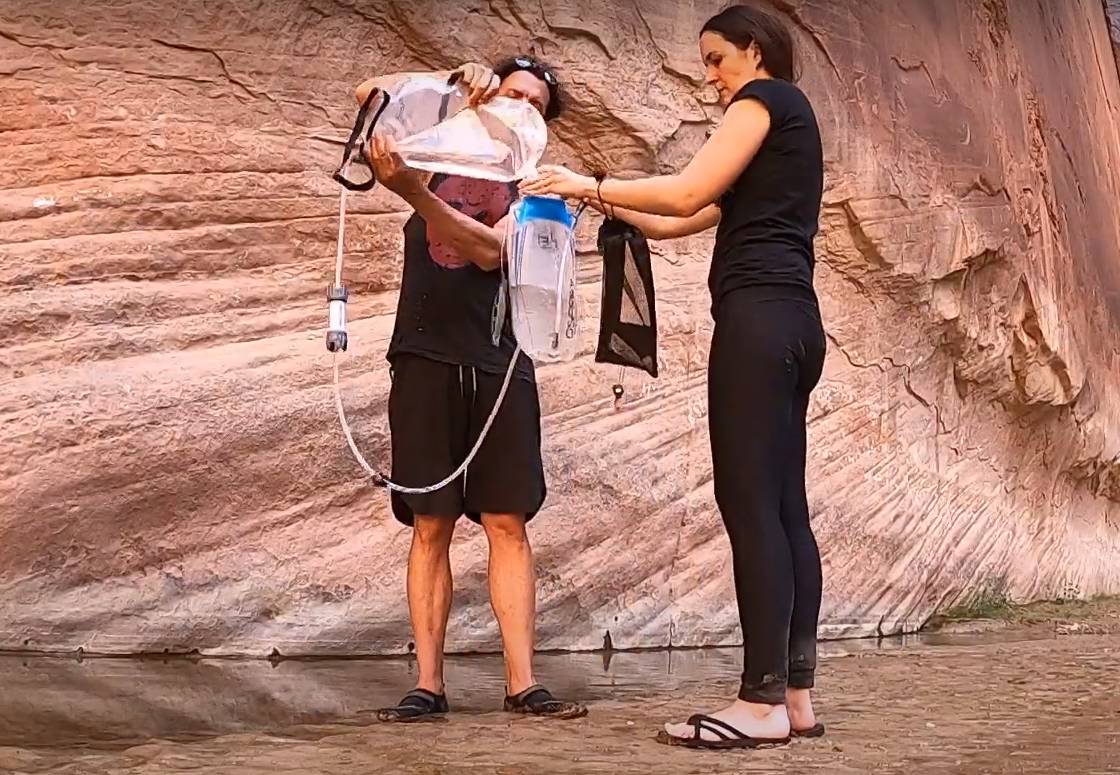 I'm really happy with the GravityWorks 4L Water Filter – even if ours is a little wonky or defective with the leaks and inability to zip close. It's such a convenient and easy way to filter a large amount of water while backpacking (or even camping). Don't know what we would do without it!