The Valley of Fire is a really cool little state park full of fascinating rock formations and vistas just outside Las Vegas. The biggest draw are the dramatic red, pink, and white rock formations made from Aztec stone that are found throughout the park. They literally look like coals from a red hot fire!
The park is fairly small (46,000 acres) and very family friendly (be prepared for lots of kids) and you can see just about everything in one day. We made a "hit list" of our top things to do and see and were easily able to do all of them in just one day (which even included some hiking). The Valley of Fire exceeded my expectations and is definitely worth a visit!
How far is valley of fire from Las Vegas?
The Valley of Fire sits just about one hour or 50miles northeast of Las Vegas.
The easiest way to get there is to take I-15 N out of Las Vegas and get off at exit 75, which will take you directly to the park's west entrance.
Note that the east entrance borders with the Lake Mead National Recreation Area, which has a separate entrance fee of $25.
Can you drive through Valley of Fire?
You can absolutely drive through The Valley of Fire! You'll actually be able to see a lot of the park's attractions without ever leaving your car. There's a lot that you'll miss too, but the park is so beautiful that just driving through will still allow you to see a lot of the rock formations and a few panoramic vistas.
Valley of Fire Attractions Mapped

Click on each icon to find out more about what is available at that location. Camera are for attractions and photo opportunities. Hiking figure is for trails.
My Favorite Top 8 Best Things To Do (In One Day)
This is our "hit list" of the "must see" things in The Valley of Fire for our one-day visit. And yes, we were able to do all of them in just one (long) day. We started with White Domes/ Prospector Trail, all the way at the end of Mouse's Tank road and then just worked our way up the road towards the entrance.
Prospect Trail
The Prospect Trail is by far the longest trail in the part at 5.5mi, one way. This was our favorite attraction because it was the most remote and had the least amount of people. It was the only place in the park where we were actually able to enjoy the beauty and stillness of the park alone without seeing anyone else for at least an hour.
This trail isn't on the map provided at the entrance for some reason. It breaks off from the White Domes Trail shortly after the slot canyon and goes to The Valley of Fire Highway (main road in the park). The trail near White Domes follows a wash as it curves through stunning towering sandstone red and orange rocks. The formations and colors here are comparable to several of the other more "well known" attractions you'll see in the park. As you get closer to the Valley of Fire Highway, the trail gets more and more exposed and eventually loses the rock walls all together, resulting in hiking straight across the open desert.
We only hiked the first half of the trail and then turned around and went back in order to avoid crossing the open desert and also the transportation issue of coming out 6miles away from your car. There's no available water and minimal shade on this trail.
White Domes
A very popular 1.5mi loop trail through old movie sets and a short slot canyon. It's a quick hike with a lot of bang for your buck. The trail starts with a quick decent down to an old movie set where part of a building still remains. The loop is clearly marked with arrow markers telling you where to go.
The next highlight of the trail is slot canyon which lasts for a few feet. After that, the trail slightly ascends and takes you past the "white domes" and rocks of various colors, offering you a great view over the valley.
Fire Canyon
This isn't so much a hike as it is a view point/vista, but definitely worth a quick stop. The view reminded me a bit of Zabriskie Point in Death Valley, only with more colors of deep reds and blues. Even the parking lot offers an impressive view of the canyon and there's also a very short path from the parking lot which leads to an overlook. While this wasn't on our original hit list of things to see, we stopped here to wait out a rainstorm that was happening in another part of the park and was very glad we did. This view is very much worth it.
Fire Wave
One of the most iconic attractions in the Valley of Fire is the Fire Wave. Somewhat similar to the infamous Wave in Coyote Buttes, the Fire Wave is a red and white zebra striped sand stone curving through the desert culminating with two knolls. It's a short 1.5mi round trip hike with no shade to reach the knolls, which is where most of the photos of this attraction are taken. While this is a must see as it's one of the most recognizable parts of the park, it was one of my least favorite sights given the crowds.
Pink/Pastel Canyon
Not on any official park map, but this previously "unknown" spot has been made well known by bloggers, Pink (or Pastel) Canyon is a very pretty slot canyon. If you're already going to see the Fire Wave, you might as well stop here too since they're accessed from the same parking lot.
From parking lot #3 follow the road west to the bottom of Wash No. 5 (there will be a small sign with a #5 on it). The canyon will be on the west side of the wash. As soon as you enter, you'll find yourself in a beautiful pastel colored canyon.
Elephant Rock
You can literally see Elephant Rock from the road, so why not drive by and take a look. Elephant Rock is a large red rock formation that looks like… well, an elephant! It's located just inside the park at the east entrance. You can park in the parking lot at the entrance or on the side of the road if you want to get out and get closer for a better look, or you can see it as you drive by.
Mouse's Tank/ Petroglyph Canyon
The coolest thing about this trail are all of the petroglyphs! They're everywhere! The trail itself is a rather unexciting .75mi hike through sand to reach a natural rock basin that Mouse (an outlaw) used to live off of hundreds of years ago. While the rock basin is pretty "meh", the petroglyphs are cool and easy to spot. This is worth a quick stop just to walk in and see some of the petroglyphs.
Big Horned Sheep
This was the main thing that I wanted to see while we were in the park and we lucked out and got to see a heard of them! There are big horned sheep all throughout the park. You'll probably see their droppings along many of the trails. They come down from the rocks to feed on the brush and grasses and are pretty use to seeing people nearby.
You're most likely to see them early in the morning just after sunrise or about an hour or so before sunset. We saw them just outside the park's west entrance as we were leaving for the day. Other common areas where they've been spotted are around the campgrounds in the scenic loop and along Mouse's Tank Rd. Just keep your eyes peeled!
Additional Things To Do
Here are some more attractions in The Valley Of Fire that we thought just didn't live up to the rest. If you have the extra time, most of these are quick stops and you could easily include them in your trip.
Rainbow Vista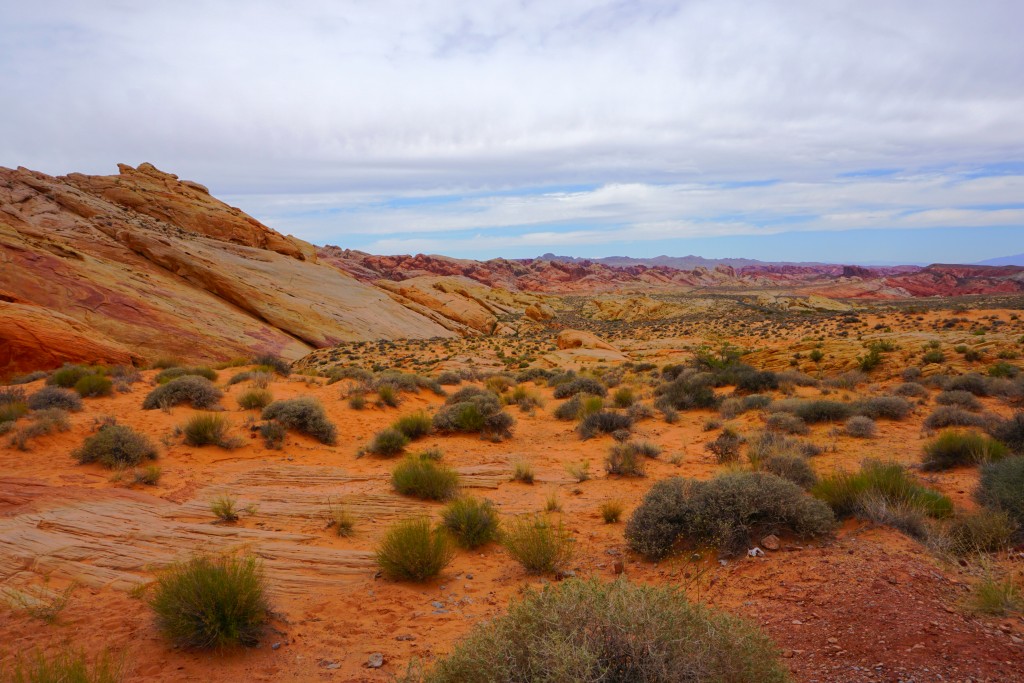 A super quick 1mi roundtrip hike that ends with a climb up onto a hill to give you a panoramic view of the park.
Beehives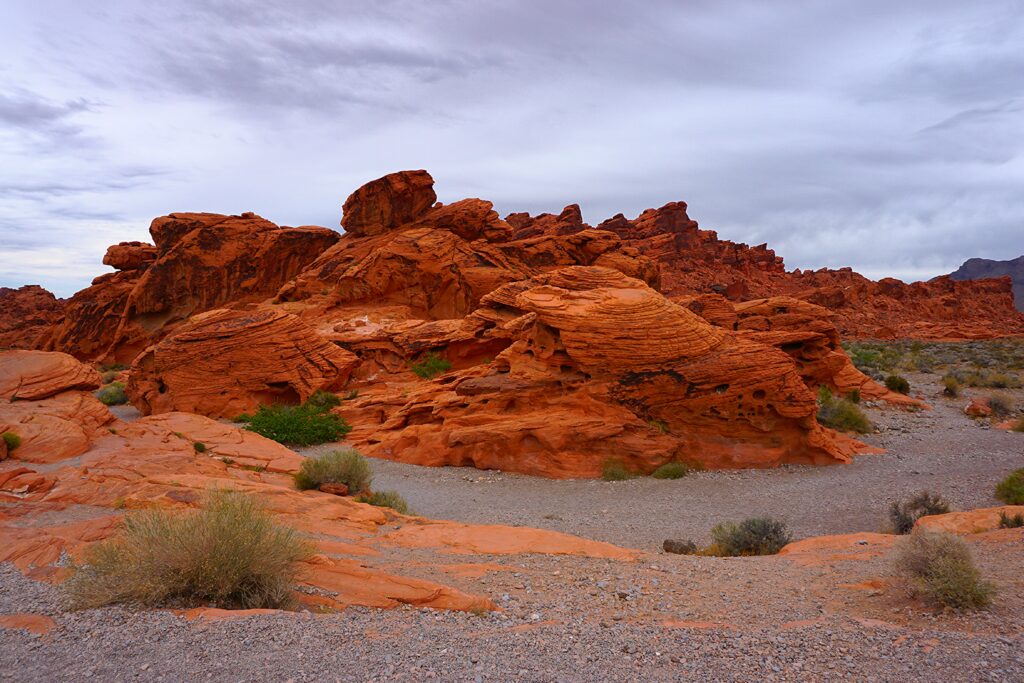 A group of sandstone rock formations that look like… well, beehives! These are located just off the road. You'll be able to see them from the parking lot, or if you want a closer look, you can climb to the top of them for a view of the park.
Seven Sisters


Seven large sandstone rocks clustered together, visible just by driving by along the main road. Or if you want to stop and get a closer look, there's a parking lot nearby.
Scenic Drive: Atlatl Rock & Arch Rock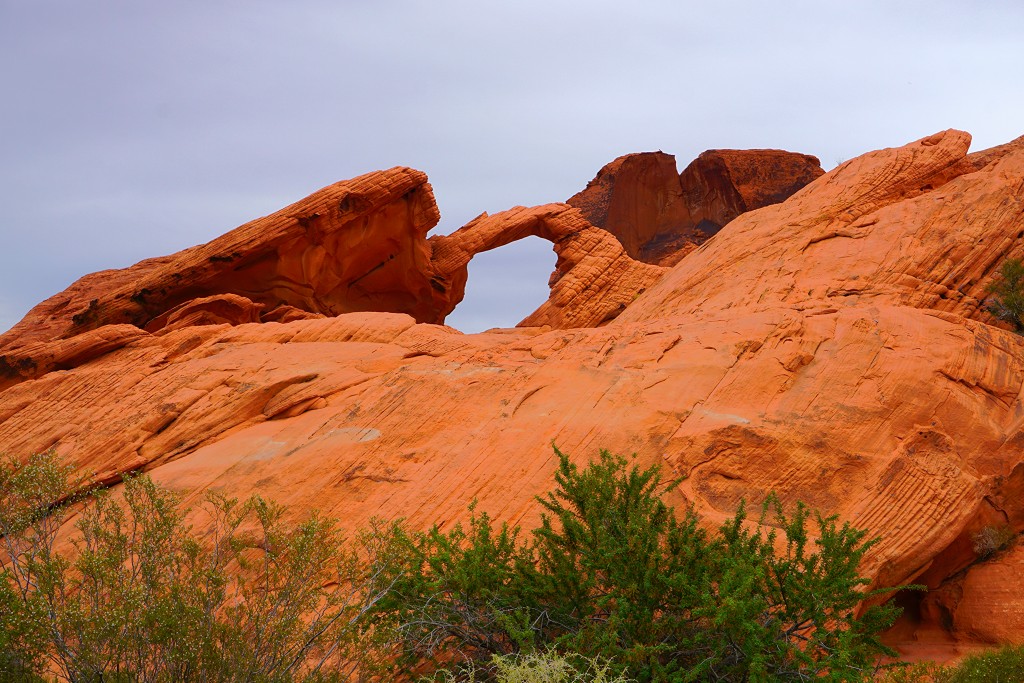 The scenic drive is a 2mi loop that goes past the campgrounds as well as Atlatl Rock and Arch Rock. At Atlatl Rock there's a large staircase which takes you up to see some petroglyphs on the rock. Arch rock is further on in the loop and is exactly what is sounds like – an arch. There are lots of arches throughout the park, so not sure why this arch gets it's own name and attraction.
Know Before You Go
The entrance fee to the park is $10, which is completely worth it.
Bring your own food and water. While there is water available in the park if needed, it's only in certain areas. It can get very hot here during the warmer months and you're going to need that water.
If you want to camp, the fee is $20/night, and the campgrounds are first come first serve (and often full). If the campgrounds are full and you're ok with dispersed camping, there's a bunch of BLM land just outside the west entrance where you can find a spot off any of the dirt roads and camp for free.
Visitor center is open from 8:30am – 4:30pm. Park is open sunrise to sunset