Foreboding, desolate, isolated, and brutally beautiful; Death Valley in the largest national part in the continental US at 140 miles long and 15 miles wide. It is the lowest, hottest, and driest area in North America and with a wide variety of unusual topography and landscapes, Death Valley is desert beauty at it's absolute best.
I was surprised at how different the northern and southern regions of the valley are from each other. They each have a lot of different landscapes to offer. The northern region is much more isolated and far less crowded, which is more of what I was expecting Death Valley to be like, whereas the southern region has more diversity and the attractions that Death Valley is famous for, which also means more crowds of tourists… just something to keep in mind when planning your trip.
Why Is It Called Death Valley
Death Valley was named by a group of pioneers known as "The Lost '49ers" who were lost here in the winter of 1850. They all assumed that they were going to die here in the valley, which was barren with no water and seemed to be never ending. Two of the younger men, William Lewis Manly and John Rogers, lead the pioneers out of the valley over the Panamint Mountains. The story goes that as they left, one of the men looked back, and said "goodbye, Death Valley."
Where Is Death Valley Located?
Death Valley is located on the California/ Nevada border in Inyo County, California between the arid Great Basin and Mojave deserts. It's just east of the Sierra Nevada Mountains (which is really beautiful if you're entering/exiting the park in that direction).
Directions
From Los Angeles: 4.5 hrs; Take 14 North out of Los Angeles (from the 101N, to the 170N, to the 5N). You'll be on 14N almost the entire way. Follow it for 115mi and then go left on 395N. Follow 396 for 74 mi and turn right onto 190E, which will take you into the park. Do not get gas at the station in Panamint Springs just outside the park. It's $0.70 more expensive than the gas inside the park.
From Las Vegas: 2.5hrs; Take 95N out of Vegas. Follow this for 87 miles and then left onto 373S. Follow this for 23mi and then turn right onto 190W, which will take you into the park.
From Sacramento: 8hrs; Take 50E for 93mi. Turn right onto 89S and follow it for 29mi crossing into Nevada. Turn right onto 395S and follow it for 150mi. If you have a 4×4, you can enter the northern part of the park near Big Pine via Death Valley Road, which is off of Rte 168, just past Zurich. If not, follow 395S for another 58mi and then take a left onto 136E at Lone Pine. Follow for 17mi and then go left on 190E, which will take you into the park. Do not get gas at the station in Panamint Springs just outside the park. It's $0.70 more expensive than the gas inside the park.
When Is The Best Time To Visit Death Valley?
Early spring or late winter. Death Valley gets extremely hot over the summer – by May temperatures get into the 100s during the day, and with no shade, you're at the mercy of the sun. During the late winder/ early spring is ideal. The temperatures during the day are in the low 80s and at night the low 50s (tho it may sometimes dip to the mid 30s).
Getting Around
The popular attractions and tourist areas are accessible with a regular car as most of these roads are paved. But, if you really want to see Death Valley, you're going to need a 4 wheel drive vehicle.
Pro Tip: Gas is cheaper at Stovepipe Wells than at Furnace Creek. Gas prices are comparable to standard CA prices. Do not get gas at Panamint Springs (just outside the park) – the gas station here is $0.70/ gallon more expensive than inside the park.
Jeep 4×4 Rentals
The majority of the valley (including the entire northern region) is accessible only via dirt roads of a various quality levels. Even the "packed" dirt roads will take a toll on a regular vehicle and there is little to no cell service in pretty much the entire park, so you do not want to get stuck!
You don't want to be this guy: On the road to the Eureka Sand Dunes (10 mile packed dirt road), we stopped to help an Audi sedan with a shredded tire on the side of the road. They had already used their spare tire to replace a flat earlier. It was 1pm and they had been stuck there overnight even though they had already gotten a call out and a tow-truck was on its way… due to be there within the next few hours (we passed it turning in as we were exiting). In this case, a regular SUV would probably have solved the problem, but the "not well maintained" dirt roads absolutely require 4 wheel drive, so why risk it and end up like this guy?
So if you don't have a 4×4, rent one! Unfortunately traditional rental car facilities (such as Hertz, Enterprise, etc.) don't guarantee 4wheel drive – believe me, I called all of them when trying to get a car. There's always that "or similar" clause that allows them to give you whatever "similar" car they currently have in their inventory at the facility – and they don't guarantee that it will be 4wheel drive.
So, instead you can rent from:
Farabee's Jeeps – located at Furnace Creek within the park. $296.71/day, 200 Miles included per day, $0.50 every additional mile
Better option:: TURO! $50- $70/day, unlimited miles – this is what we did and it worked out great! It's basically AirBnB but for cars. You're renting a specific car of your choosing and you can add-on insurance just like any other rental. We did this in our home town before leaving and even with the extra $100 we spent in gas getting here, it was still cheaper!
Pro Tip: Pay attention to the mileage limitations before booking. If you're going on a long trip, make sure to get a car that allows for unlimited miles!
Bicycle Rentals
During our visit there were also a lot of people who were cycling around the more popular attractions on the paved roads. While this is a bit annoying as a driver, I'm sure its beautiful to cycle if it's not too hot. The general store at the Ranch at Furnace Creek rents 24-speed mountain bikes.
Places to Stay
Where to stay in Death Valley depends on how adventurous you want to be. I'm always an advocate for camping, but during the summer it gets so hot and brutal here, you will need some shelter (which is why I would recommend finding a shady canyon off a dirt road somewhere and sleeping in your 4×4!).
Pro Tip: If you're outside, be prepared for it to get windy! The winds can come up at a moment's notice and will sometimes blow all night.
Hotels
There are only three hotels actually inside the park. They are often sold out far in advance and are rather pricey. If you don't mind staying outside the park, it will definitely save you a few bucks – in some cases up to $300/night! Pahrump NV and Lone Pine CA are the closest big towns and each have a few options (remember you're in the middle of no where), in addition to the ones below:
Inside The Park
Just Outside The Park
Airbnb
There's a bunch of really cute places just outside the park that are available on AirBnb for around $50-$80/night. Also a lot of these places will give you more of a taste of the local culture, such as staying in an airstream trailer!
Campgrounds & RV Sites
The majority of the official campgrounds are in the center of the park near Furnace Creek. Campgrounds are open year round and are first come first serve unless otherwise noted. There is no shade in these campgrounds and they're located on flat packed dirt. You can also choose to camp in the backcountry rather than a campground (see below) just by driving to an area that you think looks good.
Campfires: As a national park, all vegetation is protected, so you either need to bring your own firewood or buy it from one of the general stores. Fires can only be made in designated fire pits and are prohibited during the Summer (June- Sept). All stoves and grills must be gas burning.
Furnace Creek Campground – reservations available and often sold out – $22
Stovepipe Wells Campground – Open Sept 15 to May 10 – $16
Texas Spring Campground – Open 11/13 to May – $16
Sunset Campground – Open November to May – $14
Mahogany Flat Campground – Open March to November – free, 4×4 required
Thorndike Flat Campground – Open March to November – free, 4×4 required
Emigrant Campground – tents only – free
Wildrose Campground – free
Mesquite Spring Campground – $14
Eureka Sand Dunes – not listed on NPS website, but its on their map and there are fire pits and bathrooms available. 4×4 required.
Warm Springs – not listed on NPS website, but its on their map and there are fire pits and bathrooms available. 4×4 required.
Homestake Dry Camp – not listed on NPS website, but its on their map and there are fire pits and bathrooms available. 4×4 required.
Backpacking & Backcountry Camping
Death Valley has over 3 million acres of wilderness and almost 700 miles of backcountry dirt roads that are open to camping. You get pick up a free voluntary permits for backcountry camping at the visitor center or any ranger station.
Rules for backcountry camping:
No campfires. Stoves and propane grills are allowed.
You can camp along dirt roads at least one mile away from any paved road or "day use only" dirt road (this applies to the first 8 miles of Cottonwood Canyon).
Camp only in previously disturbed areas to minimize impact.
Campsites must be more than 100 yards from any water source
2022 Death Valley Entrance Fees & Permits
If you plan on visiting a lot of National Parks, I recommend getting an America The Beautiful Park Pass. The pass allows you to enter every National Park in the US for one year for just $80.
There is no entrance gate for Death Valley. Park entry fees can be paid at the ranger stations or at any of the self-pay facilities around the park.
Individual (on foot or bicycle) – Good for 7 Days: $15
Motorcycle – Good for 7 Days: $25
Automobile with up to 4 people – Good for 7 Days: $30
Death Valley Annual Pass – Good for 1 Year: $55
Permits: You get pick up a free voluntary permits for backcountry camping at the visitor center or any ranger station. No other permits are needed for camping, but each campsite does have a fee (see above).
Things To Do
There's SO much to do here it's really hard to put everything onto one map, but we've tried! Here's a collection of everything listed on the NPS site plus some extra stuff I found through my own research… all on one nifty interactive map so that you can put together a kick-ass itinerary based on your planned trip route!
Pro Tip: The only places you can expect to have a small amount of cell service is at Stovepipe Wells and Furnace Creek. Plan ahead and know where you're going (screenshot the map if necessary), you won't be able to rely on your phone for directions! Here is a printable map.
Places With a View
Dante's View

The "best" view of the park. At 5,475ft above the park, you can see everything from here- the Panamint Mountains and Badwater Basin lay stretched out in front of you. Paved path to the top of the lookout point and crowded by tourists.
Zabriskie Point

The "most impressive" view of the park and basin. It's the most famous view, but not the most expansive. When we visited, Dante's View was closed for maintenance, so we went to Zabriskie Point instead and it was breathtaking. Paved path to the top of the lookout point and crowded by tourists. You can hike from the point around Badlands Loop.
Father Crowley Point

Views of Rainbow Canyon and the Panamint Mountains from the west end of the park. You can often see fighter pilots flying past from this view. Paved road with parking lot. There's also a dirt road where you can walk further out to the edge for a better view.
Aguereberry Point

Similar views to Dante's View, but less crowded because it's harder to get to. From an elevation of 6,433ft, Aguereberry Point overlooks Death Valley from the west (pretty much the opposite of Dante's View). 4×4 required (6.5 mile unpaved road).
Ubehebe Crater

Super impressive crater! I was more impressed than I thought I would be! The colors are beautiful and it's also a great vantage point of the surrounding northern area of the park. Accessible via paved roads. You can hike the Ubehebe Crater Loop trail around the rim or can go down to the bottom of the 600 ft deep and half a mile across crater.
Attractions
Badwater Basin

The lowest elevation in North America – it's vast salt flat below sea level. It's really beautiful as its right in the center of the valley and you can see for a long ways in every direction. There's a boardwalk that goes out into the salt flats allowing for you to walk out into the middle of the valley. Paved roads and a parking lots, and thus, lots of tourists.
Devils Golf Course

This was cooler than I thought it would be and one of the more interesting and unusual things in the park that you won't get anywhere else! It's a massive crystalized salt flat. There are crazy looking and incredible strong salt crystals in all directions. Much to my surprise, you can go out there and walk all over them. They're super strong and really hard to damage.
Racetrack Playa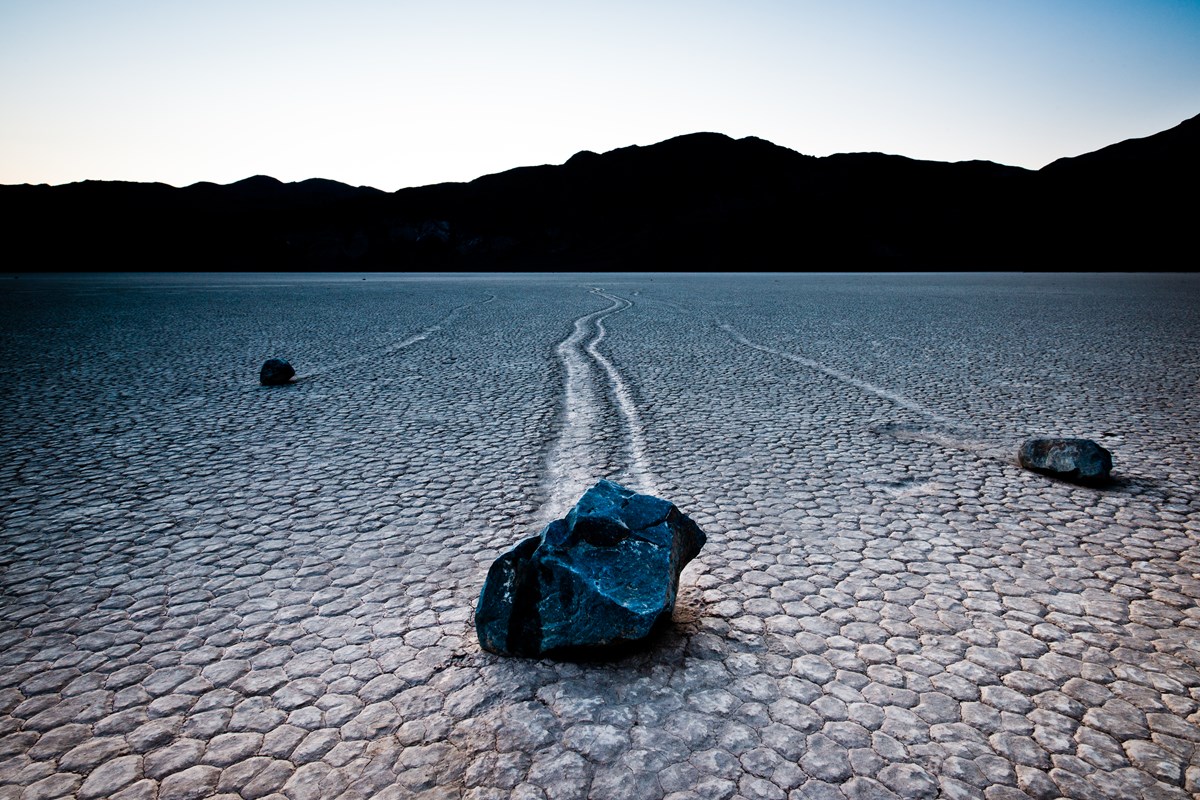 Look at those rocks go! The racetrack is a dry lake bed with "sailing stones" that create "racetrack" imprints in the sand. It's pretty bizarre and interesting to see. A 4×4 is required to get there as it's miles down a dirt road. The biggest negative of the area is that tourists who have visited aren't always respectful and have left footprints on the playa, which destroys its beauty and sense of isolation. Here's an article that talks about a photographer's frustration with that. Dirt roads only, so 4×4 recommended (my friends got high-centered in their regular car on this road).
Joshua Trees

There are two places you can see the Joshua Trees – at Lee Flat's in the southwest part of the park and also along the entrance/exit in the northwest between the park and Big Pine (which requires a 4×4). These are cute funny looking trees if you've never seen them before.
Saline Valley Warm Springs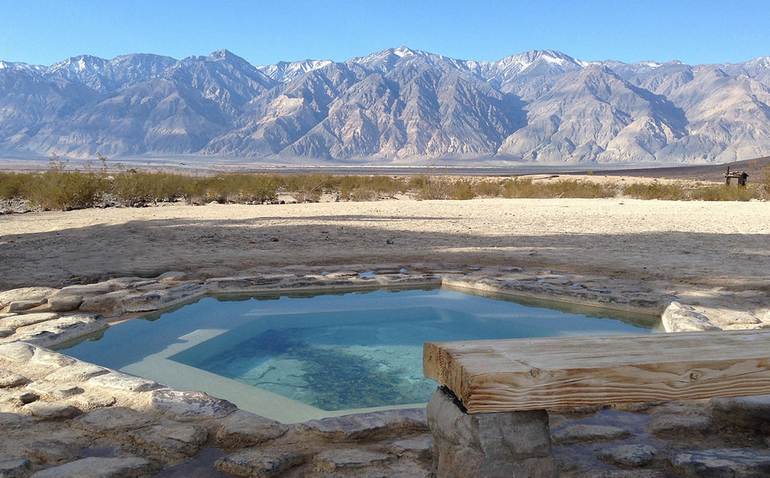 A "hot" (warm) spring in the mid-north west part of the park along Steele Pass. Clothing is optional for the spring! Tough dirt roads only to get here, so 4×4 highly required. More detailed blog here
Marble Bath of Saline Valley

Somewhat of a strange "roadside attraction". Created by Wendel Moyer who had decided that "Marble Bath" should actually be a bathtub filled with marbles, so he found an old claw-foot bath rub, and boxes of marbles and created it! The bathtub is still there full of rocks and marbles. Located along Steele Pass, a tough dirt road, so 4×4 required.
Saratoga Spring

Did you know that Death Valley has wetlands?! Well it does! Saratoga Spring lies at the southern tip of the Ibex Hills, which is at the very southern part of the valley. Several springs overflow into pools totaling 6.6 acres. No swimming! The pools are home to several endemic species including the pupfish, tryonia snail, springsnail, belostoma bug, naucorid bug, and the June beetle. Accessible via packed dirt road.
Devil's Corn Field

I honestly wouldn't even call this an attraction, but everything that talks about Death Valley includes it, so I'll mention it. We drove right through the Devil's Corn Field without even realizing it and wouldn't have known if not for a little sign on the side of the road. Right next to Mesquite Flat Sand Dunes between Stovepipe Wells and Furnace Creek.
Sand Dunes
Mesquite Flat Sand Dunes

The most famous Sand Dunes in Death Valley. If you are at all in the center of the park, you literally can't miss them. Right next to Stovepipe Wells town center. They look pretty cool, but are often crawling with tourists like ants on sugar. You can walk around all over them. Paved roads and parking lot.
Eureka Sand Dunes

Bigger and more impressive than Mesquite Flats, also more remote and harder to get to. They're located towards the north west part of the park, 10mi down a dirt road. 4×4 required – we passed a guy who blew out a tire on this road. Almost no one there, and a camping area is available right in front of them. There is a trail for you to walk around on them, or you can just tackle them on your own.
Panamint Dunes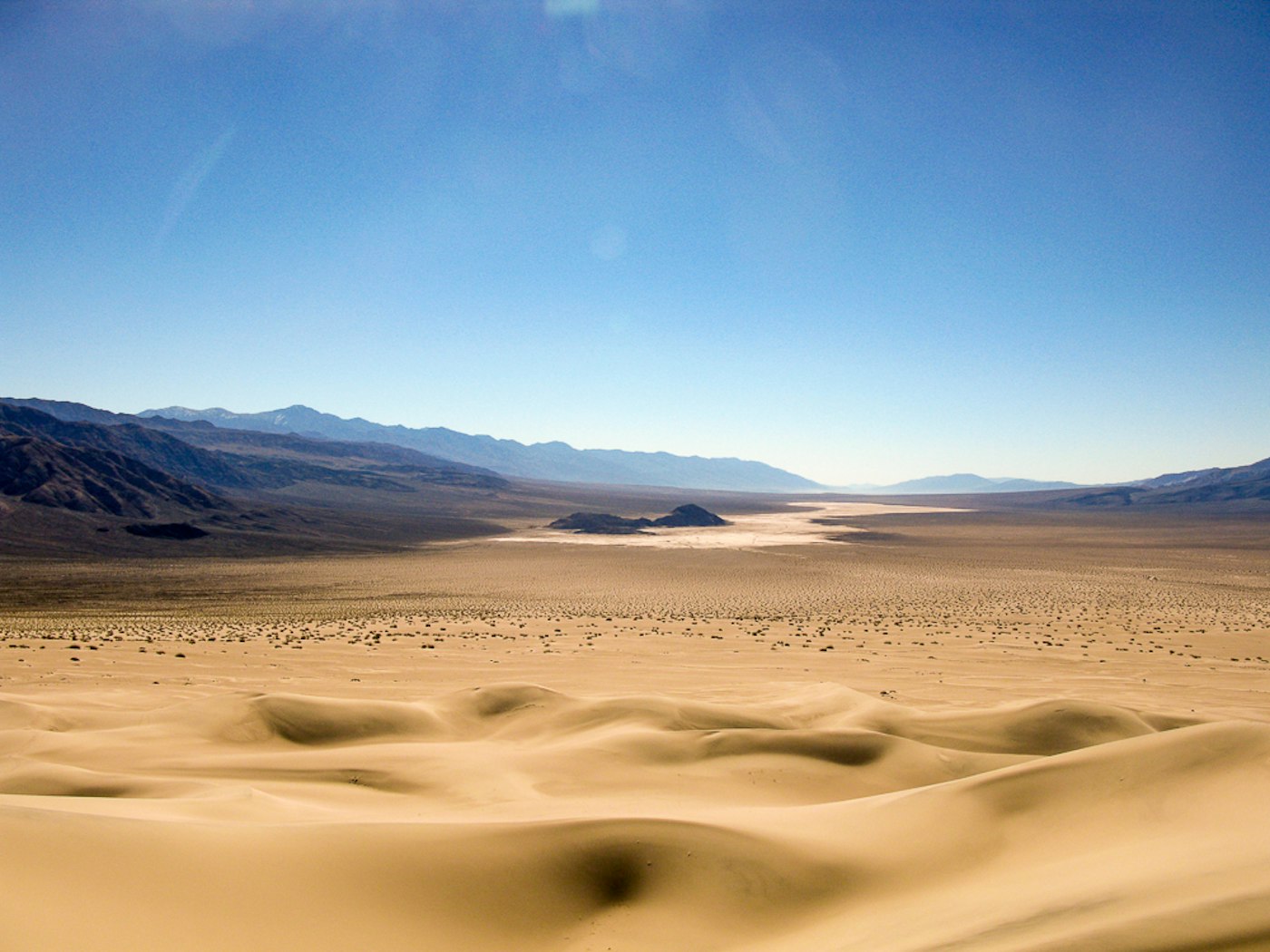 Some of the biggest and most beautiful and most remote sand dunes located towards the center/west of the park. Chances are, you'll have them all to yourselves. Lots of opportunities for backpacking, camping and hiking (a good backpacking blog here). Accessible via dirt roads, 4×4 required.
Ibex Sand Dunes

An isolated set of beautiful sand dunes against the Saddle Peak Hills at the southeastern end of Death Valley near Saratoga Spring. Not often visited, so low crowds. Opportunities for hiking and camping. Dirt road accessible, so 4×4 required.
Saline Valley Sand Dunes

Probably the smallest sand dunes in the park set against the Inyo Mountains towards the northwest. Remote and not often visited, so low crowds. Dirt roads only, and opportunities for hiking.
Ghost Towns, Ruins, Mines & Historical Landmarks
There are thousands of abandoned mines and landmarks all over the park. This was a thriving area during the gold rush and has countless mines for gold, silver, lead, zinc, Epsom salts, mercury, tungsten, copper, borax, talc, sodium chloride, and manganese.
Scotty's Castle

Closed until further notice due to flood damage, and is not likely to re-open to the public until 2020. It was an engineer's dream home, a wealthy matron's vacation home, and a man-of-mystery's hideout and getaway in the 1920s. Accessible via paved road.
Harmony Borax Works


After borax was found near Furnace Creek in 1881, William T. Coleman built the Harmony Borax Works plant and began to process ore in late 1883 or early 1884. It went out of operation in 1888, after only five years of production. Accessible via paved road.
Eagle Borax Works

In the southwestern end of the park. Established in 1882 by Isidore Daunet, J.M. McDonald, M. Harmon and C.C. Blanch to mine borate deposits. Accessible via dirt road only.
Charcoal Kilns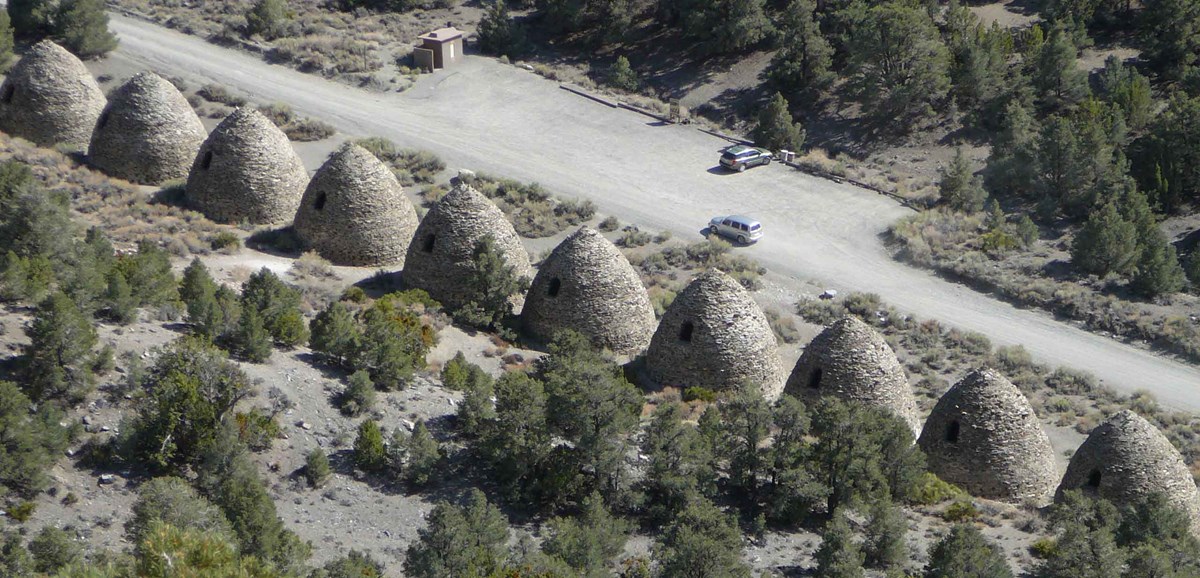 Beehive shaped masonry structures, about 25 feet high, completed in 1877 by the Modock Consolidated Mining Company to provide a source of fuel. Accessible via dirt road only.
Ashford Mills Ruins

A former mining town settlement built in 1914 by Harold Ashford and his brothers, Henry and Lewis, who worked the mine without good results. Further history here. Accessible via paved road.
Rhyolite Ghost Town

A town built after quartz was found nearby. The booming town included a red light district, stock exchange, and three story building which were very expensive at the time. By August 1907 a mill had been constructed to handle 300 tons of ore a day. Some of the walls of the 3-story bank and the jail are still standing. More history here. Accessible via paved road.
Panamint City Ghost Town

Found in the western mountains this is a well-preserved ghost town. Founded in 1873 as a silver-mining town, its population soon grew to several thousand. It was destroyed three years later by a flash flood. The city had a mile-long main street, mills, saloons, stores, a red-light district, a post office, and even a cemetery. Accessible via dirt road only. Opportunities for hiking and camping (good blog about that here).
Ballarat Ghost Town

Ballarat was created in 1896 as a supply point for the mines in the canyons of the Panamints. It was home to 400 to 500 people and had 7 saloons, 3 hotels, a Wells Fargo station, post office, school, a jail and morgue, but not one church. More history here. Accessible via dirt road only.
Leadfield Ghost Town

Leadfield is one of the shortest lived ghost towns lasting from 1925 to 1926. Fifteen miles of road were built up the canyon to connect with the road to Beatty in order to mine the ore. The population peaked at around 300. More details here. Accessible via dirt road only.
Old Sulfur Mine

Not really sure what the history of this one is. The colors in the soil here are pretty crazy and it definitely smells like sulfur! Located on the road between Eureka Sand Dunes and Crankshaft Crossing. Worth a stop if you're going this way. Accessible via dirt road only.
Keane Wonder Mine

Restored and reopened November 2017. Operating in the early 1900s, the Keane Wonder Mine was one of the most successful gold mines in Death Valley. It now remains as one of the best examples of a historical gold mining operation in the national park. Accessible via dirt road only.
Skidoo Mine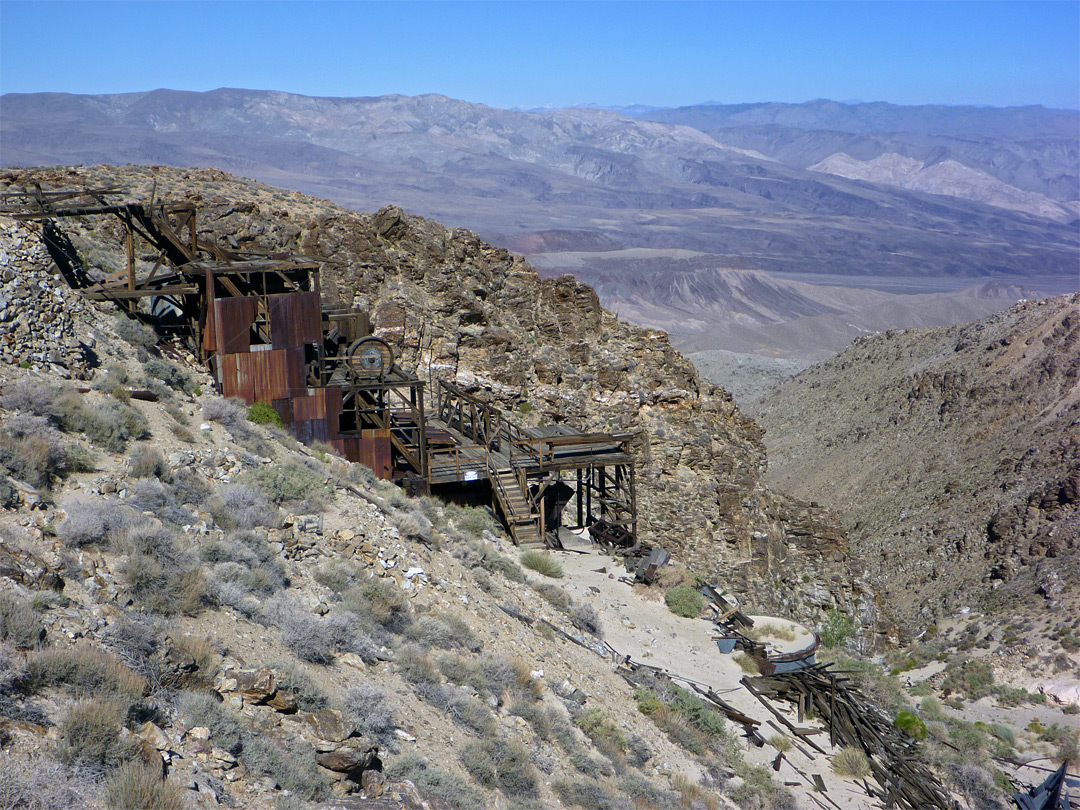 Lots of old artifacts, almost around every corner. By 1907 Skidoo had more that 500 residents and is reported to have produced 1.5 million in gold. Today no structures remain, only a few fallen buildings and the ruins of the stamp mill as well as a few graves. Accessible via dirt road only.
Eureka Mine

A gold mine created in and was open for almost 40 years. Historians estimate that the owner extracted about $175,000 worth of gold. The Eureka Mine is closed by a bat gate in the winter due to hibernating Townsend's long eared bats. The mine reopens again each spring. More details on visiting here. Accessible via dirt road only.
Scenic Drives
Twenty Mule Team Canyon

Teams of mules pulled massive wagons hauling borax from the Harmony Borax Works 165miles to the railroad. A 2.8 mile road riddled with tunnels. It's a dirt road, but packed dirt that seems to be ok with regular cars.
Artists Drive & Palette

Less impressive than I thought it would be. All of the pictures show mountains with crazy colors, and they are there, but not thaaat bright. It's still pretty, but I think this is a "take or leave it" kind of thing. Wouldn't be my first choice of places to see especially when there's so much else that's better. Accessible via paved road.
Last Chance Mountains

Why do no other blogs talk about this drive?! It's beautiful! This was one of my favorite parts of the park! The road through the mountains is super windy as it climbs the hills and the rocks and pavement go through a string of colors. There's a great spot to stop and look back over the valley at the top. Accessible via dirt road only.
Hiking
Pretty much any of the above attractions, views, sand dunes etc. all offer hiking options in addition to these "official hikes".
Easy
Natural Bridge Trail

Not the biggest fan. It's a pretty easy (tho slightly up hill) dirt gravel path to get to the natural bridge, which is about a half mile from the parking lot. If you've been to other parks in the southwest, the bridge isn't that impressive.
.5 mile out and back to the bridge.
Accessible via dirt road only, but packed dirt road, and crowded by tourists.
Salt Creek Interpretive Trail

Home to the Salt Creek Pupfish, a unique and bizarre creature that can survive in these harsh conditions. The small fish is most visible in these waters in the spring. More details here.
1-mile long boardwalk loop
Accessible via paved road and crowded by tourists.
Moderate
Golden Canyon Trail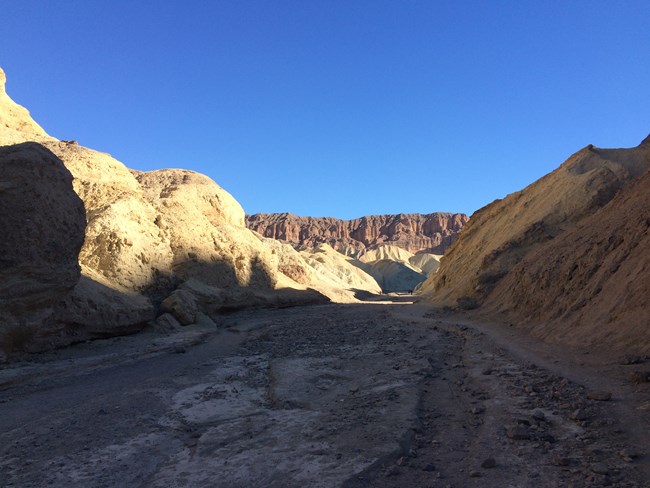 After seeing the canyon you walk through from Zabriskie Point, I wish we had done this. It looks like it would be a really beautiful and interesting hike. Can be combined with Gower Gulch and Badlands Loops
3 miles (4.8 km) out and back trip
Accessible via paved road and also crowded by tourists.
Gower Gulch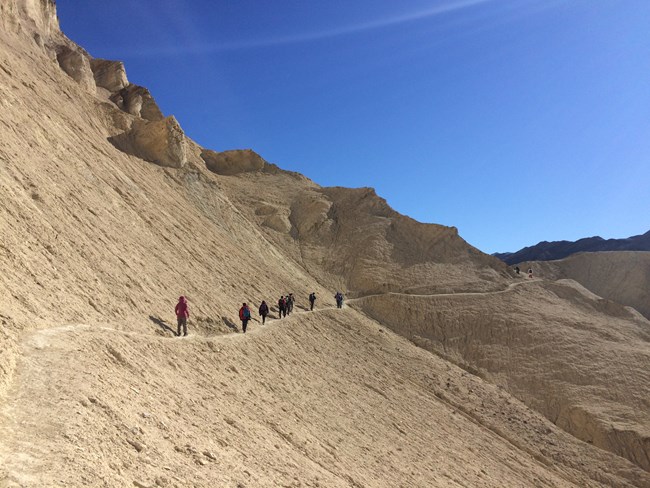 Can be combined with the above Golden Canyon Trail or Badlands Loop.
4.3 mile (6.9 km) loop.
Accessible via paved road and also crowded by tourists.
Badlands Loop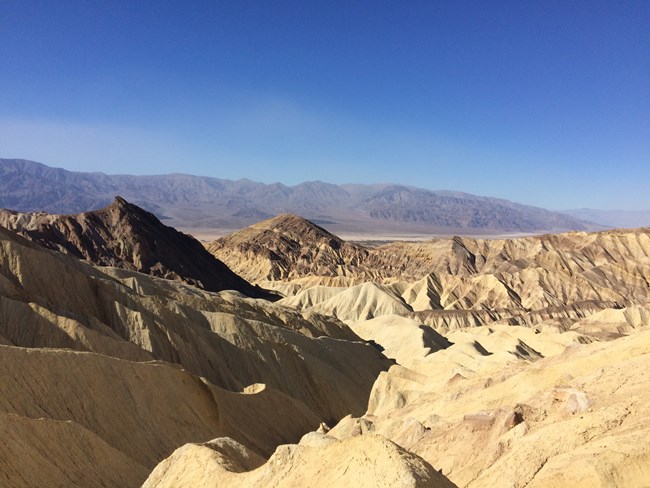 Can be combined with the above Golden Canyon Trail and Gower Gulch.
2.7 mile (4.3km) loop
Accessible via paved road (at Zabriskie Point) and also crowded by tourists.
Desolation Canyon Trail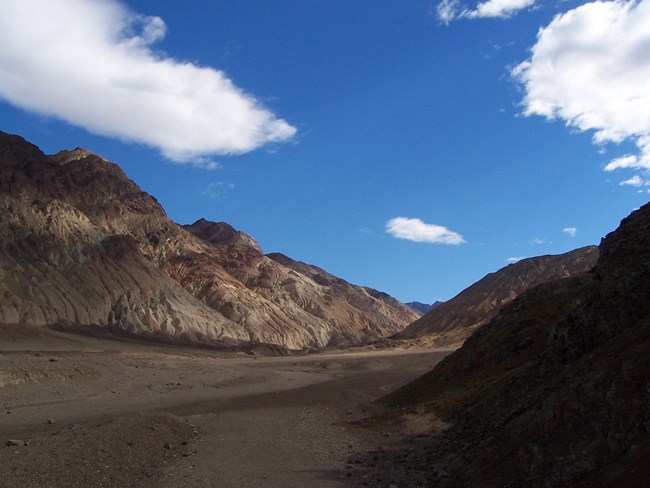 3.6 mile (5.8km) out and back
Accessible via dirt road only.
Mosaic Canyon Trail

Some really interesting slot canyons. This is the kind of hike that you think of when canyon hiking in Death Valley.
4 mi (6.4km) out and back
Accessible via dirt road across from Stovepipe Wells. Crowded by tourists (tho most of them turn around after getting their pictures at the first narrow slot canyon).
Darwin Falls Trail

A year-round waterfall that doesn't feel like part of the desert. Not on NPS maps.
2 miles (out and back)
Accessible via unmarked gravel road.
Lemoigne's Cabin Hike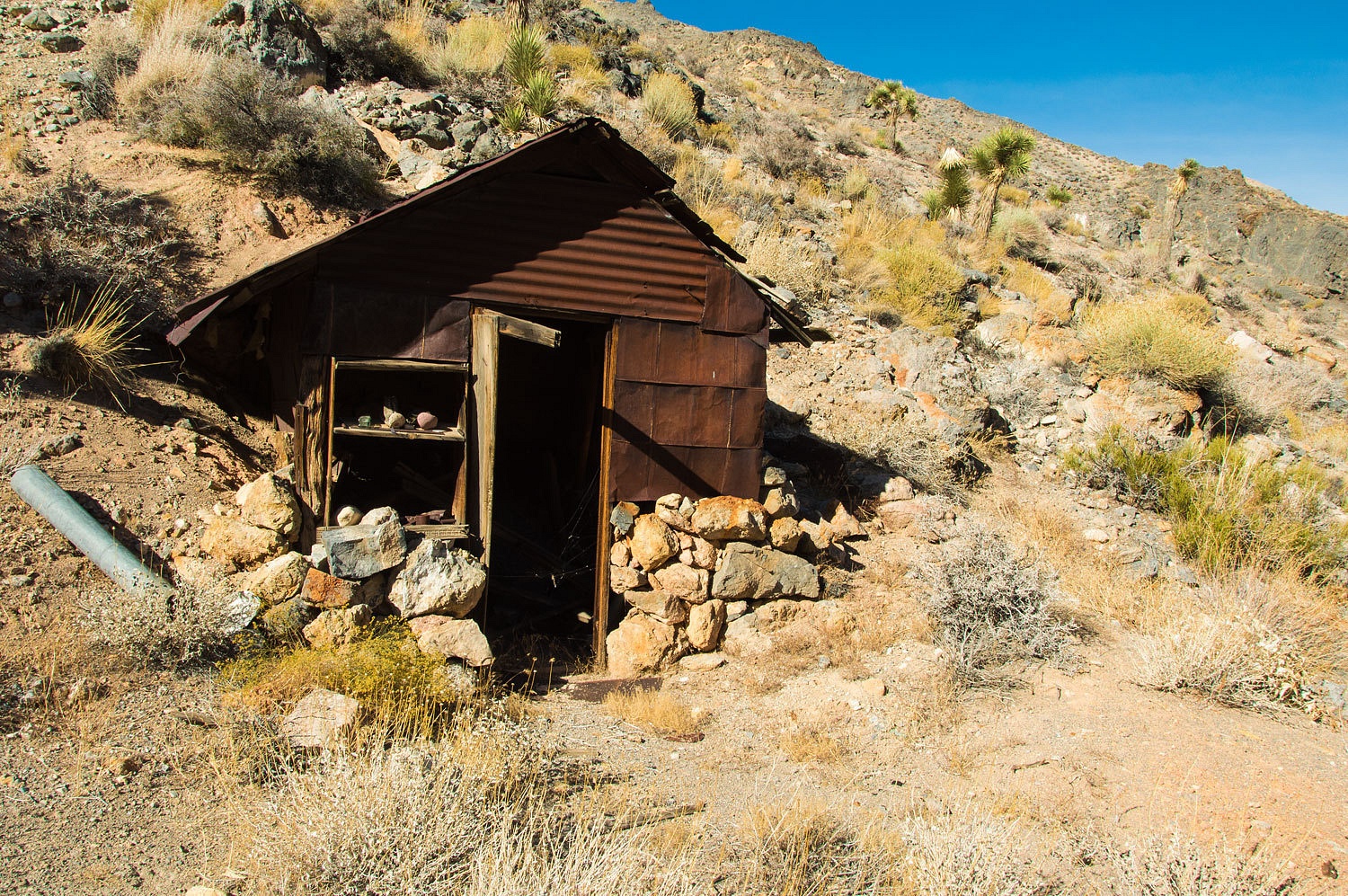 Very remote hike to an old cabin. Not on NPS maps.
5 miles (out and back)
Accessible via bad dirt road – 4×4 required.
Slit Canyon

A narrow deep canyon with a 50′ waterfall. Not on NPS maps.
5 miles (out and back)
Accessible via dirt road.
Hungry Bill's Ranch

Historic ranch site from 1870's contains rock terraces, corral and orchard.
2 miles to ranch site from road end; 7 miles to Panamint City.
Accessible via rough dirt road, 4×4 required.
Fall Canyon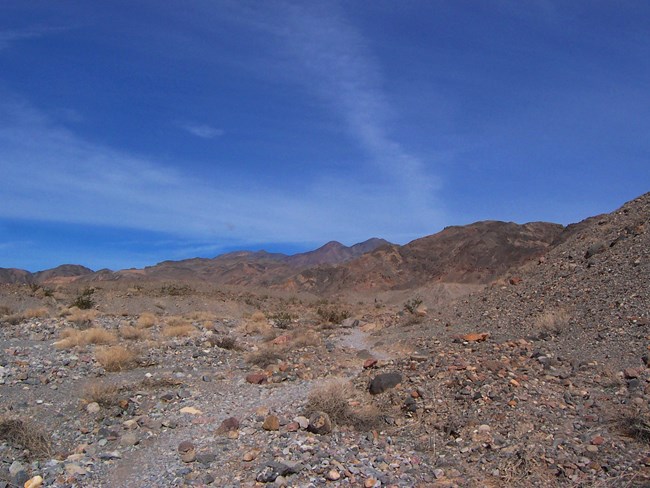 Dry Falls, narrow canyons, and lots of opportunities for wildlife.
6 mile (9.7km) out and back
Accessible packed dirt road.
Advanced
Sidewinder Canyon Waterfall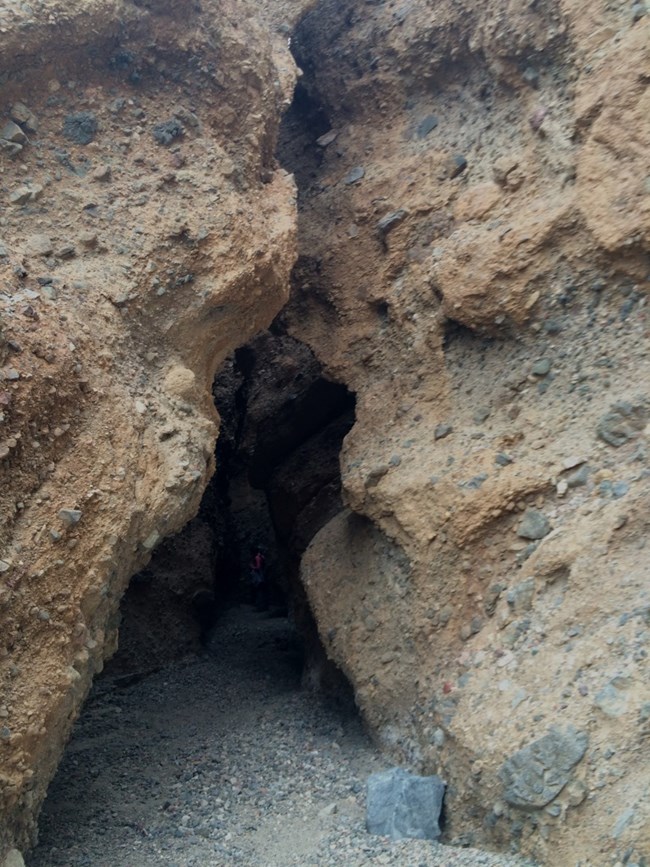 A slot canyon hike that ends at a dry waterfall.
5 miles (8.4km) out and back
Accessible via unmarked gravel access road
Telescope Peak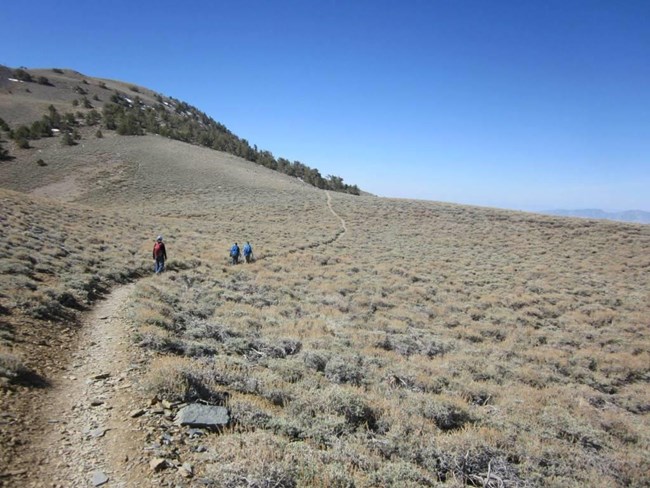 A steep climb to the top of Telescope Peak.
14 mile (22.5km) out and back
Accessible via maintained gravel road.
Wildrose Peak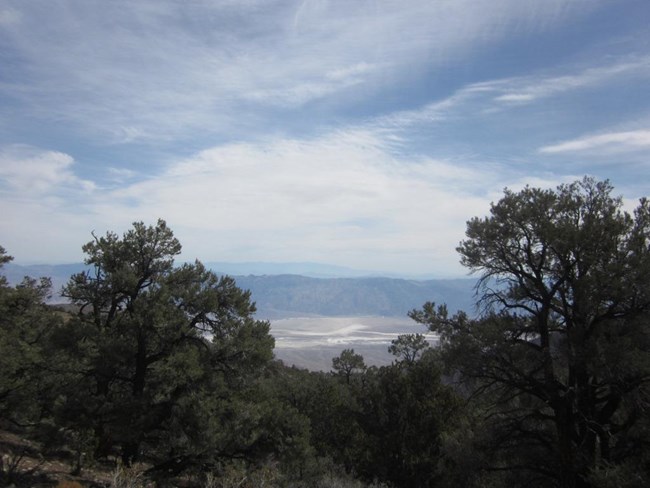 Starts at the Charcoal Kilns, a hike to the top of Wildrose Peak.
8.4 miles (13.5km) out and back
Accessible via maintained gravel road.
Grotto Canyon Trail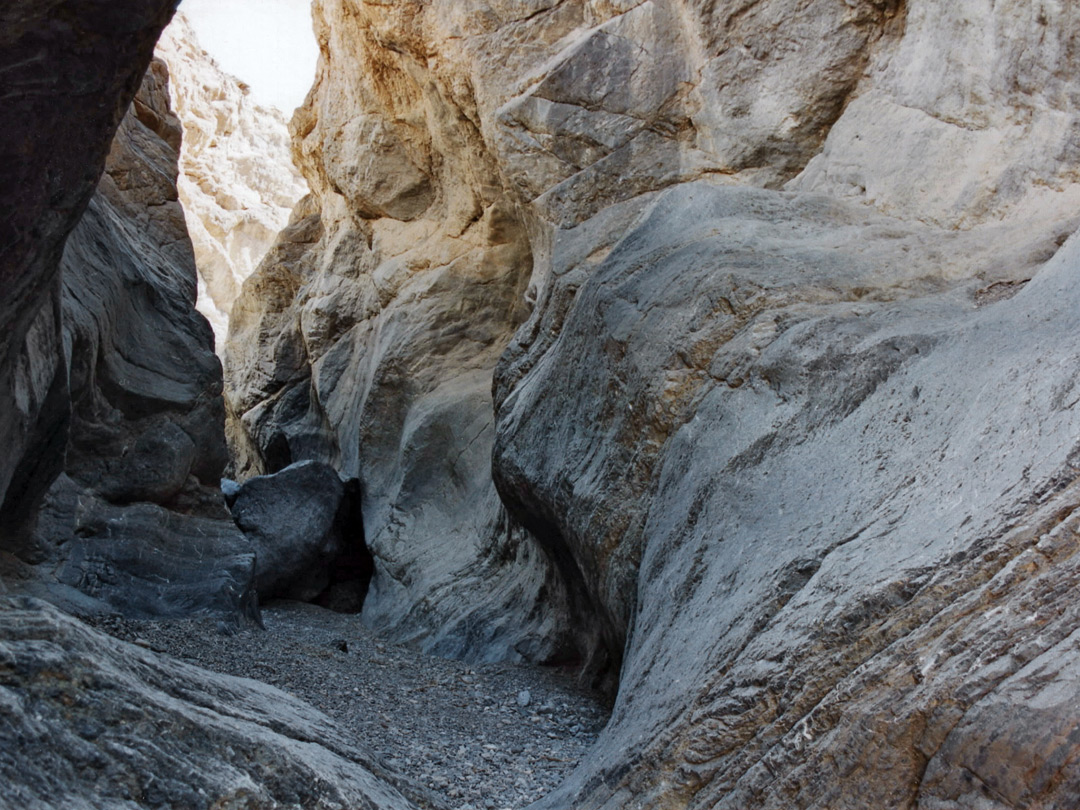 A difficult slot canyon hike with many obstacles. Not on NPS maps.
2 miles (out and back)
Accessible via unmarked dirt road near Stovepipe Wells
South Fork Trail Canyon/Mine Camps

End at the colorful Broken Pick Millsite camp and includes several well preserved mining camps, springs, narrows, and eventually panoramic views from the thickly-forested slopes of Wildrose Peak. Not on NPS maps.
9.7 miles (out and back)
Accessible via bad dirt road – 4×4 required.
Surprise Canyon Trail

There is no trail to follow, you walk through a lot of water and brush in a continually steep grade uphill, that pass through a waterfall to a 1870's ghost town.
10.3 miles (out and back)
Accessible via dirt road.
Undertaker Canyon to Widowmaker Dry Falls

A short but difficult hike across several boulders and obstacles.
5 miles (out and back)
Accessible via dirt road.
Backpacking Trails
You can also backpack the above "advanced" or "moderate" trails as well as long as you camp a mile from a paved road or "day use only road".
Hanaupah Canyon & Shorty Borden's Mine

This seems to be an old jeep trail and wash. You can drive a good amount of it with the right vehicle.
3-18 miles (out and back), depending on how far in you drive.
Water: yes
Rough dirt road, 4×4 required
Cottonwood Canyon & Marble Canyon Loop

A jeep trail to Cottonwood Canyon Springs. From here the trail then goes through Dead Horse Canyon and comes back around through Marble Canyon.
26.8 Miles
Water: Seasonal Springs
Rough dirt road, 4×4 required
Titanothere Canyon

No set trail. You're walking on a gravel wash from Titus Canyon Road toward Scotty's Castle Road.
4.5 miles to Lostman Spring; 12 miles to Scotty's Castle Road.
Water: Seasonal Spring
Rough dirt road, 4×4 required
Indian Pass
No real trail; walk gravel wash and cross-country. Follow wash bearing left (north) staying in drainage nearest ridge; head for low pass in mountains to the east. Last four miles in canyon. 6 miles to springs; 8 miles to pass. Water available in the canyon. Accessible via paved road. Here's a good resource.
Bighorn Gorge
No set trail. NPS recommends: From the Scotty's Castle Road, hike down to Death Valley Wash then follow main drainage up alluvial fan to canyon. Several small dry falls are easily passed, but at upper end of gorge an 80 foot dry fall requires scrambling up talus slope on north side to continue beyond. Some additional good info. Accessible via paved road.
Hole in the Wall Trailhead
This isn't so much a "trail" as a road that leads to several options (including Slit Canyon and Undertaker Canyon listed above) or backpacking. There's no trails, so you can make your own! Several rugged canyons in Funeral Mountains just above Hole-in-the-Wall can be explored depending on your climbing ability.
Owlshead Mountains
No specific trail, just options to create your own. Through Canyon is one of the largest and passes through to a hidden basin at the heart of the mountains. A possible loop trip is return via Granite Canyon.
Travel Vlog!
Anything you think I should add? Let me know in the comments!